There was no  coffee but this  this place deserves a review anyway.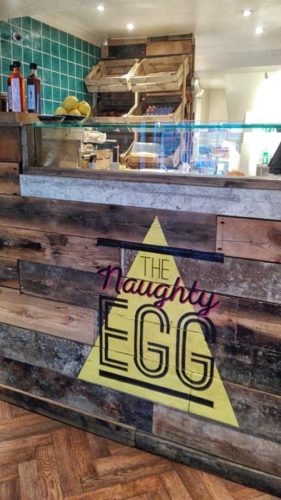 We had seen a Christmas stall for this place in December but didn't have time to eat there so this week we went to Castle street to find out if it was as good as it looked.
The menu is amusing and there is plenty of choice, of course most things include an egg. Below you can see an Egg Sheeran – orange cheese tops the egg, and a naughty burger with a huge portion of chips. Loved the fact that you can have your choice with either a bagel, a brioche bun or a wrap.
The location in Castle street is OK, not too far from the shops and on the way to a large car park.
The service was very friendly and fast.
This place is tiny with only seating for about eight.
The coffee machine was broken, there was no coffee, so no idea!
The food was amazing, freshly cooked and innovative.
No toilets.
Verdict
Really interesting menu with very fresh delicious eggs cooked to order.
They serve fresh orange juice and tea so you can get a drink. We will go back (hopefully when the coffee machine is fixed) there are things on the menu we want to try!