Inside the grounds of  Heidelberg castle is a real surprise – the German Museum of Pharmacy.
You could easily miss this walking round the  grounds  but we thought we would go in for just a few minutes as we had plenty of time and its included in your ticket price.
What a surprise – this place is a real hidden gem. It covers two thousand years of medical history.
If you read the information boards you can learn a lot about historical medicine. The three spoons sign is one of my favourites the beautiful design from the 1920's was to teach the patient that their drugs  should be taken three times a day.
My favourite facts
Until the 18th century diagnosis was made by studying the patients urine.
All raw materials with a medicinal use are called drugs  (from dry) and started with plants.
The horn of the unicorn was precious as it was anti toxic (really this was a narwhal tooth).
Tea cocoa and coffee were first used as medicine before becoming consumer goods.
The beautifully designed cabinets and painted bottles are fascinating to look at. We even had fun in the children's section where you can do a smell test, there are different bottles and a selection of smells to choose from. Some are easy, we had no trouble with lavender, rose or sage but some like chestnut were more difficult. Basically we got several wrong!
The Pharmacy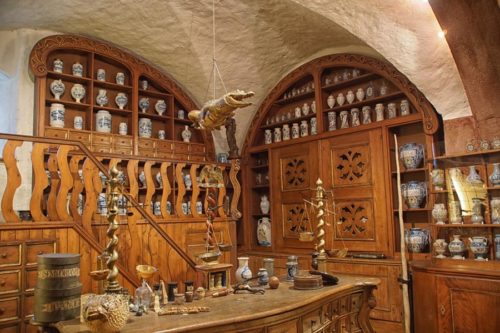 The Bamberg Pharmacy about 1730.
This was a public shop. The customer spoke to the pharmacist through a window so the customer could be impressed by all the mysterious contents.
Then the reasons for disease were unknown and often considered punishment from god so being ill must have been frightening.
But you would have to trust someone who inhabited this beautiful and strange environment to make you better.
The Laboratory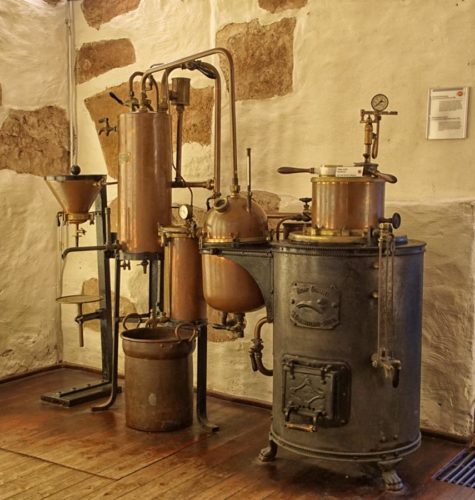 After the laboratory you can see a huge collection of materials. These old miracle cures were collected from the seventeenth to nineteenth centuries from strange far away lands at great expense.
They are divided into the three kingdoms of nature – minerals, plants, and animals. This means along with the plants and herbs there are mineral rocks ready to be ground down into powder and things worse than a bush tucker trial like skin of snake and ground scorpion.
And finally a medicine we still take.