Lake Bled in the Julian alps is deservedly Slovenia's most popular tourist site. Surrounded by forest with a medieval castle and with  a church on a tiny  island it has everything. The perfect place for a short break and one of my favourites.
The Main Attraction – The Lake
You can row your own boat across the lake to the island but its most fun to take a pletna . These wooden flat bottomed boats can carry about twenty people. The Pletnarstvo or oarsman stands at the back of the boat and rows you across the lake. At the island he gives you time to explore before the journey back.
You climb the ninety nine steps up to the church of the Assumption. If you get married here it is traditional for the groom to carry his bride up to the top. Then he should ring the bell and make a wish -probably for his bride to weigh less.
A walk around the lake is perfect there are different things to look at as you go round with lots of benches to sit and admire the view. Even walking slowly and stopping lots of times to admire the scenery, ducks, swans, and rowers it took less than two hours.  We also climbed up to the castle. It has a museum, a wine cellar if you want to spend lots, and a print works where you can get souvenirs .
I liked the blacksmiths but not his prices.
Kremma Rezina
Bled has its own delicious cake. The Kremme Rezina. This legendary pastry is basically an upmarket cream slice – puff pastry, vanilla custard topped with cream with a dusting of icing sugar.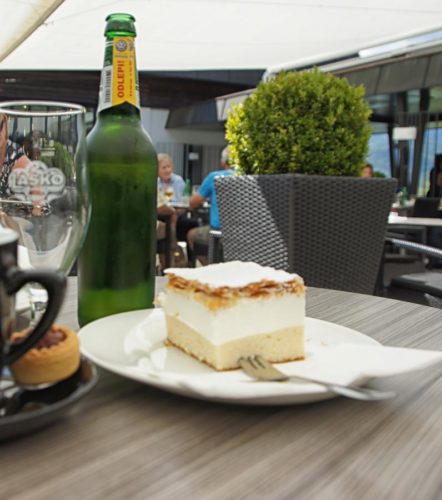 You can get this cake in all the cafes round the lake but the correct place to eat this delicacy is the Park Hotel on the lakeside. It even has its own facebook page.
It really is amazingly good and you get quite a large slice.
Vintgar Gorge
About four kilometres  from the lake is Vintgar Gorge. When the gorge was discovered in 1891 it was impassible but it was developed as a tourist site with a small entry fee. This is an easy walk along Zumrs galleries and wooden bridges ending in a waterfall before you turn round and retrace your steps. This place is beautiful, wild nature but easily accessible. The perfect half day excursion – a gentle walk and then back to Bled for more cake.
I know you're supposed to be snobby about so called tourist traps but this place is really lovely. Just don't go in high season if you like a bit of peace.