Zadar, on the Adriatic coast, is a great mixture of ruins and innovation. There are Roman and Venetian ruins in the old town right next to a solar light show and a sea organ.
Zadar has a lovely atmosphere, much  more relaxed and less of a tourist trap than Dubrovnik, but lots to see and plenty of coffee shops (priorities!).
Zadar Old Town
The Stari  Grad or old town is on a peninsula and pedestrian only so its easy to walk round.
The ninth century  circular church of Saint Donatus is a symbol of the city. Its one of the most famous  pre- Romanesque churches in Europe  No longer used for worship it is a concert venue with outstanding acoustics due to its unusual shape. Its very plain inside but impressive. Right next door is the Roman forum,  or rather  the remains that have been salvaged. The one remaining standing  column was used as a pillar of shame in the middle ages, wrongdoers were chained to it as punishment.
Zadar New Town
From old to right bang up to date. Zadar has two very modern attractions both designed by the same man, Nikola Basic.
Thirty five pipes of differing diameters form a 230 foot long sea organ along a coastal promenade. They make different unpredictable sounds according to the strength of the waves. You can sit on the steps, everybody does, and the sounds change as the sea flows.
As it gets dark people migrate to the sun salutation. A circle of three hundred multi layered solar panels which display brightly coloured lights through the evening. This is as popular with the local families as it is with the tourists.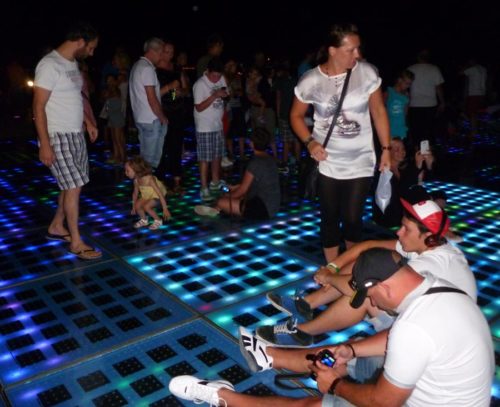 A unique fun experience.