Mostar is the most important city in the Herzegovina region. On the Neretva river and  best known for the Stari Most or Old Bridge it has a very exotic atmosphere, it doesn't seem very European at all.
Mostar's Bridge
This city  was the most heavily bombed  place during the war following the break up of Yugoslavia and its famous Ottoman style bridge originally built in 1566 was destroyed . Luckily eleven years later in 2004 it was reconstructed by  UNESCO with funds from many countries. Traditionally the young men of the town jump into the river from this very high bridge. On a sunny day they stand in the middle waiting for an audience to gather so they can show their bravery and collect a little money.
There are several old preserved Turkish houses in Mostar. We visited  Kajtaz House. Its in the Muslim quarter next to the Neretva river and was originally built for a sixteenth century judge. There is a beautiful pebbled courtyard with fountains and it shows how a house was laid out in Ottoman times with separate areas for men and women. Its full of wooden panelling and covered in rugs and cushions. You can see the Neretva river from the upstairs windows.
The Mosque
The Karadjoz- Bey mosque is in the old town and worth a look the inside is very nicely painted.
The cobbled streets next to the bridge are the bazaar area. Very busy and full of tourists its a good place to shop and eat. There is a very Turkish feel but the stall holders are good tempered and the prices are very reasonable.
Cevapi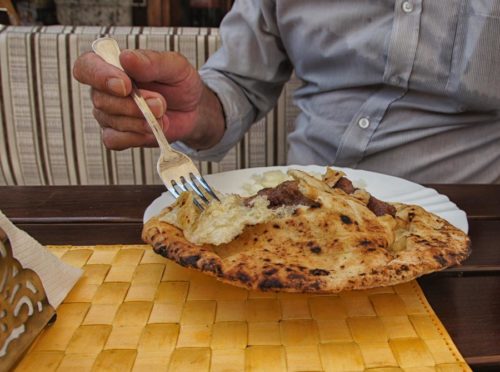 Its always good to have an authentic local dish, today in Mostar  it was Cevapi, the cheap local food. Its Naan bread filled with small sausages or minced lamb with sour cream and onions.
A huge helping, economical and delicious!