The most popular day trip from Reykjavik   is the Golden Circle Tour which takes you to the most famous sights in Iceland.
We started at the Pingvellir National Park to see the Eurasian and North American tectonic plate boundary.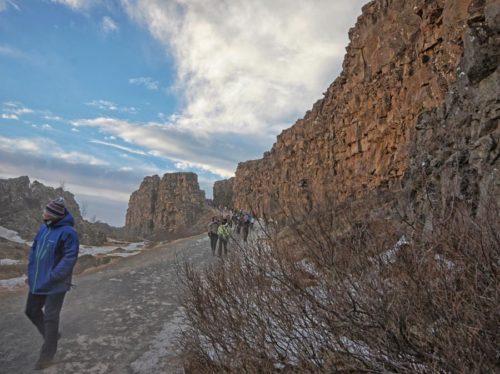 You can walk between the two plates that move slowly against each other two centimetres a year.
Gullfoss
Then on to Gullfoss, the most famous waterfall in Iceland, on the Hvita river. This was followed by Stokkur geyser. This is a tourist favourite because it errupts every six to ten minutes without fail.
Skaholt
After all that nature the next stop was a church. Skalholt was the ancient seat of the Icelandic bishops and ten different churches have been on this site. Like most things in this country it is simply but beautifully decorated. The stained glass sparkles in the clear light.
Hellisheidi
Driving back towards Reykjavik our last stop was the Hellisheidi power plant.Its the largest power station in Iceland on top of the Hengill volcano.  Iceland is a world leader in the use of geothermal power. Wells are drilled to access reserves of pressurised water. As it is released it turns to steam and is used to power seven turbines to produce 300mv of electricity. I think that is what the multi media boards in its exhibition centre told me but no guarantees I got it right!
But the most amazing thing is that they transport water at 80°C the twenty six  kilometres to Reykjavik by pipeline. It flows down the old volcano and arrives in the capital only a little cooler to be used by the locals. They even have enough to heat some car parks and pavements so no snow shovelling there.