The  main reason for our visit to Iceland was to chase the northern lights, the Aurora Borealis. This is never a certainty. Firstly when you book you are told the tour will be cancelled if the sky is not clear then there is no guarantee that you will see anything. Most of the tours do at least offer you another trip for free if you don't see anything.
The Northern Lights
On a really cold night we got on a coach and were driven around as the driver talked to others on his radio hoping for a sighting of the lights. Then we stopped at a large open place with a lot of other coaches and waited…. and waited. We got so cold we had to get back in the coach for ten minutes a few times. But eventually, when we were so cold we nearly didn't care, we saw the lights. Huge green swirls slowly moving across the sky. My photos aren't great and I'm sure sometimes the displays are much more impressive but we saw what we came for.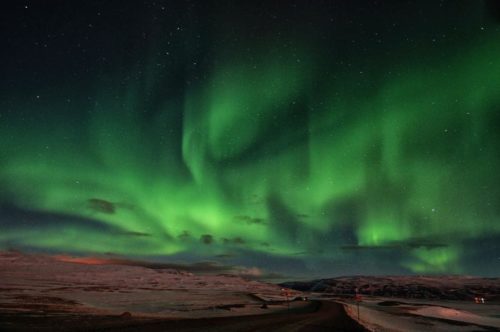 Success!
The Blue Lagoon
The other must do in Iceland is a visit to the Blue Lagoon.
This really is a one off. You can easily visit on your way to or from the airport. There are lockers to take your cases and easy transport but you must book in advance to be sure of getting in.
This geothermal spa has milky blue water always around 37- 40° C Its milky because it is full of silica and sulphur, not great for your hair so keep your head well above water! It seems very natural but it is actually man made and filled with water from the nearby geothermal plant. The bottom is uneven but smooth because of the mineral deposits. Weirdly some parts of the lagoon are hotter than others. This is a great experience  you walk into the water cold from the winter temperature but warm up immediately. Then of course you don't want to get out!