There are coach day trips from Benidorm but its cheap and easy to take a bus or a tram.
Guardalest
To visit Guardalest, the most visited village in Spain, we took a coach tour. Its a tiny village in the mountains but its always busy with tourists.Despite this it's very reasonably priced with shops selling souvenirs and plenty of places to buy fruit like the locally grown nispero and nice coffee.
A steep uphill walk takes you past the shops to the top where you can see an unusually bright turquoise coloured reservoir. There are at least five museums for the visitors. We didn't go to the torture museum or the salt and pepper museum but we did visit two. The famous dolls house museum of Antonio Marco where pictures were not allowed and the amazing Museo de Miniaturas Microgigante. This displayed sculptures created on hair, rice shells,  and many other things. They are so small you can only see them through a magnifying glass.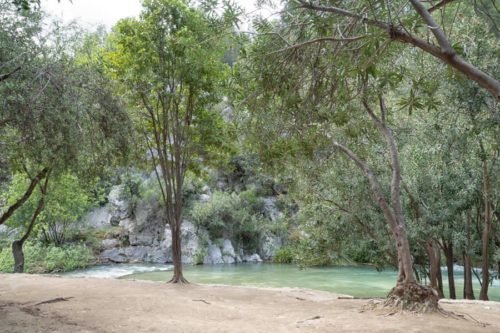 Nearby, close to the village of Callosa d'En Sarria are the Algar falls. Because of the torrential rain the week before these were even more spectacular than usual. You walk on boardwalks close to the flowing water or there are places you can swim if you can brave the very cold water. This was a nice place but probably not worth the journey unless you are already planning to go to Guardalest.
Alicante
We took the tram to Alicante just because it was a cheap and easy day trip. The beaches are fabulous and we visited the Castillo de Santa Barbara. Here OAPs get a free ride in the lift up one hundred and sixty six metres from the beach to the top.  But it is a long walk underground into the rock to reach it.
Valencia
But the nicest place I thought was Valencia. We were lucky enough to visit on a holiday so the old centre was closed of for parades in traditional dress. This meant we could walk around with no traffic and really enjoy the city. We didn't have enough time to see everything so it would be great to go back to see the things Valencia is famous for. The planetarium, the oceanarium and the interactive museum that we only saw in passing.
Chocolate
On our last day we even managed a visit to the Valor chocolate factory in Villajoyosa. That was great but expensive, we bought lots of bars to take home.