Heligan has two hundred acres of woodland walks, walled gardens, formal gardens and jungle. What more could you want on a pleasant autumn day?
The gardens at Heligan even have a romantic story  behind them. They were deserted at the start of World War One when the gardeners had to go to war. Gradually they fell into disrepair and became so overgrown they were unrecognisable. But the land was never developed on and in 1990 a hurricane caused a huge amount of  destruction which led to the discovery of the old garden. Restoration began and it was opened to the public, gradually more and more was restored until today there is so much to see it can take all day.
At £14.50 it isn't cheap but there is so much on offer I think it is good value. The extra attractions on offer vary through the year but we got to taste a variety of seaweed flavoured foods as it was "seaweed day"and then I made a corn dolly with the help of a lovely lady who was a volunteer. There were also amazing harvest displays of coloured gourds all grown on site.
But the main attraction is the garden. Even JP who doesn't know a gunnera from a banana plant enjoyed the jungle with its plants originally found by the Victorian plant hunters and its  Burmese rope bridge.
After that he needed a rest in the cafe while I explored the formal gardens and, my favourite, the vegetable garden with its  beautiful flower pots and Diggory the scarecrow.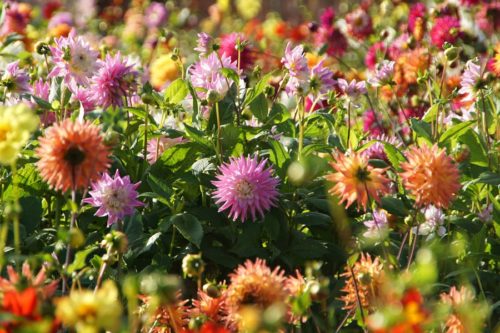 The dahlia beds were at their best.
On the way out a half price plant sale. My bargain climbing fuschia made it home unscathed.