We arrived in Tokyo in torrential rain I'm sure it followed us all the way  from Moscow. We struggled to find our hotel but the end it wasn't far and we settled in to our tiny room to dry off.
The staff bowed to us at every opportunity something we never got used to. Tokyo is huge and confusing, we never really got our bearings or properly understood what was going on but we wandered round quite happily after abandoning any hope of sticking to our itinerary.
We found the Imperial Palace fairly easily but after that we got completely lost.
But we did find Ueno park in North Tokyo. It's  the most popular city park. It wasn't cherry blossom season, which it is famous for, but it was still busy. There are temples, shrines, museums, a zoo and a the Shinobazu pond
Kiyomizu Kannon-do temple is Tokyo's oldest. Built in 1632 its famous for the pine tree of the moon . A famous tree now replaced with a new one bound into a circle.
The Toshogu shrine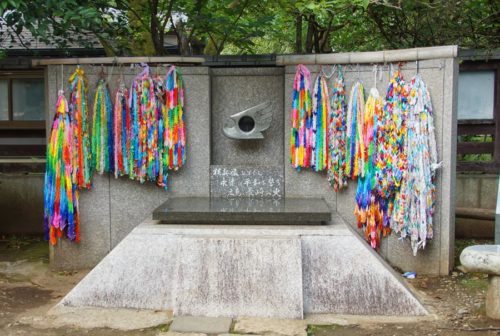 There must never be another Hiroshima anywhere on earth.
There must never be another Nagasaki anywhere on earth."
(From the "Appeal from Hiroshima and Nagasaki" Issued in February 1985)
The flame in this shrine is taken from Hiroshima and Nagasaki to burn forever for peace.
Then a change of pace we went to the shops and the famous Shibuya  road crossing. The best view is from upstairs in Starbucks but its hard to get close to the window.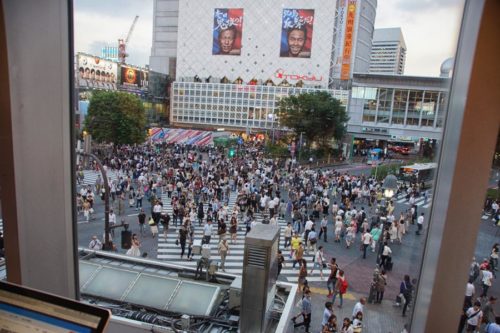 Then to find food. Everything is beautifully presented and mostly very expensive but at least with the plastic plates in the window you have some idea of what you've ordered!
After some very strange food we went back to our tiny room to prepare for our Japan Rail Pass journey round Japan.