Mexico , even if you were allowed to go at the moment, is still closed to all tourists.
But a few years ago we had a great holiday there.
The standard joke is that you have beans and rice for breakfast and rice and beans for dinner and that's nearly true. But apart from me not liking re fried beans  everything else was great. We had a fabulous all inclusive hotel in Cancun with lots of entertainment and plenty of tours available if we wanted to go anywhere.
Rio Secreto
The Rio Secreto is a twenty four mile long series of flooded limestone caves. Its a short distance from the masses of tourist all inclusive hotels and is billed as an adventure expedition. We had to wear  wet suits and  helmets with a head lamp and those weird wet shoes to enter the cave. From here we walked, waded, and eventually swum along the "river". It's  quite claustrophobic in places with the roof of the cave far too near the surface of the water for my liking. But it is strangely beautiful as you can see the colourful minerals of the caves and stalagmites and stalactites as you float along the clear cold water.
Quite reasonably you aren't allowed to take your camera- you'd need a waterproof Go Pro anyway  for it of be any use. But you can buy the pictures they take of your group and they do a reasonably good job.
Becal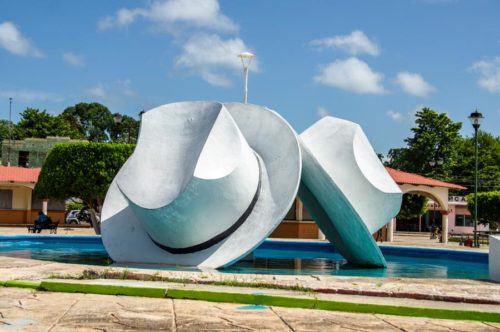 Becal is known as the hat capital of Mexico. Its famous panama hats are sent all over the world and are known for their good quality. Hat making is an ancient Mayan tradition but the panama was an imported idea. The first thing you see is the hat statue in the centre of town. Then you can take a visit to one of the many hat making  shops.
They all have a cave behind them where the sombreros de jipi are made. There are around two thousand of these little caves which are easily carved out of the soft limestone. Its necessary because you need a damp humid environment to keep the jipijapa palm fronds  soft. It can take two days to make a good hat and you can watch them being made before they try to sell you one. There is no real hard sell and they do have cheap ones and little souvenirs as well so its a nice experience.