There is so much to see as you travel round Greece.
Mycenae
The tomb of Agamemnon on Panagista hill.
This bronze age tomb was built by the ancient Mycenaeans . This beehive design has a huge lintel weighing one hundred and twenty tons.
The archaelogical museum of Mycenae has a copy of the funeral mask of Agamennon, the original solid gold mask is in a museum in Athens. There are also many ceramics on show.
Mystras
Mystras is a fortified town in the Taygetos mountains so its a steep walk up and down to see everything but its worth it.The palace of despots or Palataki Mansion belonged to the emperors second son.
The monastery of Perivleptos is built on the side of a cliff. It's dedicated to the virgin Mary and is famous for its fourteenth century frescos. They are rare examples of Byzantine art.
Olympia
Olympia is one of the most important sites as the birthplace of the Olympic games. They took place every four years from 776 BC to 393 AD.
The worship of Zeus was very important here so there are many remains around the site.
The Rion Antirion Bridge
The Greeks are very proud of this bridge, properly names the Charilaos Trikoupis bridge . It was finished in time for the 2004 Olympics . A long detour by road or a forty five minute ferry ride has been replaced by a five minute drive to cross the Gulf of Corinth. It has its own visitor centre where you can learn about its construction and watch a movie about it. The view from here is fabulous and it is an engineering marvel.
Delphi
The ancient Greeks considered Delphi the centre of the world. The temple of Apollo god of music, harmony and light. It was the home of the oracle who divined the future!
Tholos once had twenty Doric columns but now three have been restored.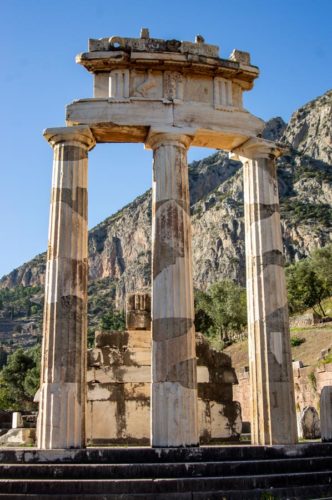 The theatre has been rebuilt and restored many times.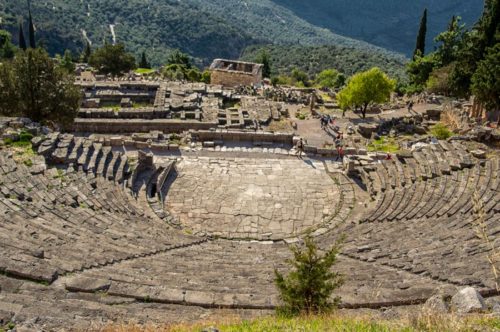 The Monasteries of Meteora
Meteora means suspended in air. Hermit monks first settled here in the ninth century and the community gradually grew. The first monastery was founded in the fourteenth century on top of a rock called Stylos. Access was precariously by ladder. More monasteries were founded and at one time there were over twenty. A woman wasn't allowed in until 1921 when the queen of Romania was allowed to visit. Nowadays this is mostly a tourist attraction and only six are still active. This is one of the most interesting and unusual tourist attractions we have visited, its worth the long drive.