Wick is a good place to stop for the night. At the top of the A9 its only sixteen miles from John O'Groats due to be our first stop of the day.
We started by going into town to find the shortest street in the world according to the Guinness Book of Records. Ebenezer Place, at 6 feet 9 inches. Mackays hotel takes its whole length.
Photo taken we took a quick look at the harbour and that's where it all went wrong. The streets were closed due to the transport of a large load – a giant turbine sail. As our planned route was closed we did what we always do, we got lost. Logically the road we took should have taken us near to where we wanted to be but it didn't. A very long straight road going to who knows where.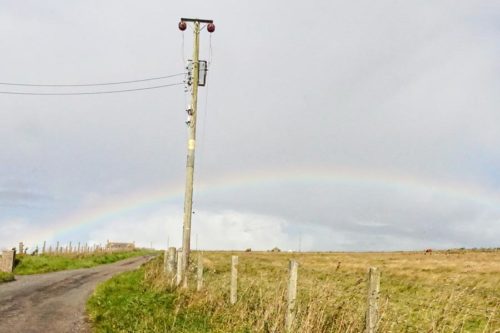 Irretrievably lost we turned round and started again.  You have to go to John O'Groats to take the photo but it was once voted the most dismal place in Scotland. Its not that bad, I liked it a lot better than Lands End. There's a shop called the First and Last selling lots of things no one could possibly want,obscure things covered in tartan  and pictures of stags and the famous heeland coos.
John O'Groats is at the end of the longest distance between two inhabited places, it's 876 miles from Lands End in Cornwall but just along the coast Duncansby Head is the most north-easterly part of mainland Britain. You can park at the lighthouse and walk over grass to see the stacks, jagged rock pinnacles just off the coast.
Then there's Dunnet Head the most northerly point of the mainland with  its own lighthouse and high cliffs.
We didn't stay long, we wanted to get to Smoo caves as our last stop of the day  and knew with so many stops to look at the scenery it would  take a while.
We made it but because of the wet weather a tour wasn't possible. It didn't matter what we saw was very impressive anyway. A walkway leads into a  huge  50ft high cave. This is a sea cave but the next two chambers have been created by fresh water.The second chamber has a waterfall created by the river water falling into a sink hole. On the day we visited it was so strong you could hardly see for the spray. You can't go any further on your own but there's lots of information for you to read in the main cave.
We just had time to have a hot chocolate at the famous Cocoa Mountain in Balnakeil craft village. Need to go back to try the rest of the menu!