Anuradhapura, Polonnaruwa and Kandy form a compact area  in the middle of the island known as the cultural triangle. This triangle contains the ancient capitals, many dagobas, cave temples, and wildlife making it an ideal place to explore when you finally tear yourself away from the fantastic beaches.
Sigirya
Sigirya  means lion rock. Sri Lankans call this place the eighth wonder of the world and its certainly dramatic.
Its a rock plateau standing two hundred feet above the jungle with what is believed to be the remains of a royal palace on top. One thousand six hundred years ago this was  the kingdom of Kassapa. He built his capital at the base of the rock and you can still see the remains of gardens and pools. it a serious climb up to the top, about one thousand two hundred steps. about half way up you come to the huge lion paws, the remains of what was once a gigantic lion gate. When you get to the top, too hot and exhausted, the view over the jungle makes it worth the effort.
Anuradhapura
Anuradhapura  was an ancient capital. It now contains many well preserved ruins, dagobas, (dome shaped buildings containing relics of Budhha) temples and other historical monuments. The oldest and nicest dagoba is Thuparama. In all temples you must remove your shoes, often the ground is quite rough and stony, but even worse, some days it was so hot it was hard to keep our bare feet on the ground without burning them!
The largest is the Jetavana Stupa. It used enough bricks to build a wall from London to Edinburgh and took twenty seven years to build.
Polonnaruwa
Polonnaruwa was also  one of the ancient capitals of Sri Lanka, it became the capital in 993 after the destruction of Anuradhapura. Here too there are are many dagobas   temples and other historical monuments.
The Gal Vihara Temple was built by king Parakramabahu and contains  statues of Budhha.
Hatadage is an ancient relic site built by king Nissanka Malla which once held the relic of the tooth. It still contains three Budhha statues.
The Rankoth Vehera dagoba  was also built by Nissanka Malla who ruled between 1187 and 1196.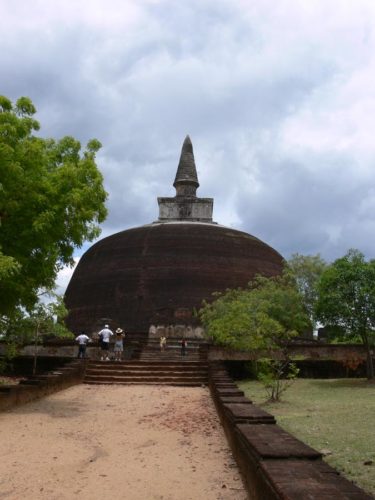 There is so much to see here, the great thing about all theses ancient temples is the variety, but enough  for now  back to the beach !