For our last trip of the summer we went back to France for a few days in Normandy. Our base was the small town of  Lisieux. Saint Therese made Lisieux the second most important pilgrimage site after Lourdes. The locals certainly make the most of this, there are religious souvenir shops everywhere and you can follow a blue line round the streets to visit places of worship and the location of significant events in Saint Therese's life. The cathedral has a diorama, waxwork models showing scenes from her life. This is manned by a cheerful priest who offers you an audio guide as you go in.
But our main reason for visiting Normandy was to see the famous sight of Mont Saint Michel.
Mont Saint Michel
Built on a small granite outcrop in the estuary of the river Couesnon this abbey was an important pilgrimage site for centuries. It's preserved intact and was one of the first UNESCO sites. You reach it by a recently built bridge, you can walk from the car park in about forty five minutes or get the free shuttle bus. There is also the option to get a horse drawn shuttle if you are willing to pay for it. We walked in for the fantastic views as we got closer.
As you enter the main gate you go up a steep cobbled street full of tourist shops – an awful lot of biscuits and cider. As you start to climb a mixture of steps and slopes up to the abbey there are places to stop and rest on the way. Just as well as it is about a thousand steps right to the top of the abbey. Although it is free to enter the Mount you need to buy a ticket to enter the abbey. This is well worth the eight euros as the views of the cloisters and refectory in particular are great.  From here looking  over the estuary at low tide you can see the tiny dots of walkers trekking across the sands on a two hour walk to reach the abbey. You need to do this in bare feet and shorts because of the varying water levels and stickiness of the mud.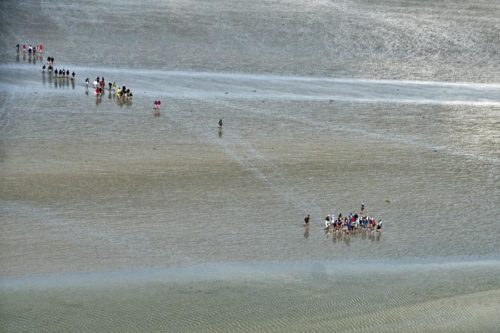 It really doesn't appeal! Take the shuttle.