A Visit to the Mosque
The Sultan Qaboos Grand Mosque is the only mosque in Oman open to non  Muslims.
Its very impressive, immaculate and huge – it can cater for 20,000 worshippers.
Inside houses the second largest carpet in the world. It took four hundred weavers four years to make.
There is an enormous  fourteen metre high swarovski crystal chandelier.
The Al Alam Palace is the most important of the six residences of Sultan Qaboos. You can't go in but its a nice area to walk around for a few minutes.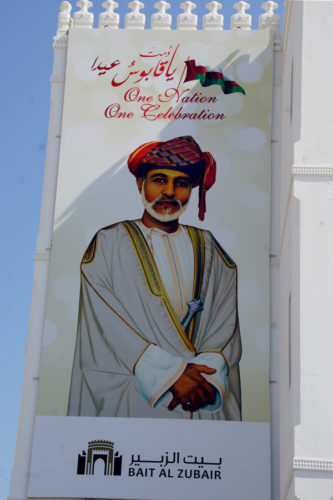 Our tour also included a visit to a private museum. Everything was beautifully presented.
There were ancient weapons, clothes and household items but for me the most interesting thing was outside.
In the garden there is a model village which shows the Omani aflaj irrigation system which dates from before 500 AD.
These ancient water channels irrigated the land when summer temperatures reach over  40°C enabling date palms and citrus trees to grow.
The Souk
Later we went to the Muttrah Souk  on the Corniche . It felt very safe and tourist friendly.
There are many household items and shoes for sale but if you go in further there are small shops selling silver and embroidery and the mysterious foreign things that you can't work out.
The smell of frankincense is everywhere. Its very busy and sometimes the shopkeepers are quite insistent but that's like a souk anywhere.
Outside the souk there is also  lots going on.
This area is good for an early evening walk and there is free wi-fi at the front of the souk. Very useful as cruise prices are outrageous.