Khasab Town
Khasab is a port on Oman's Musandam penisular.
This remote place on the Strait of Hormuz is only about 29 nautical miles from Iran and until recently was a centre for smuggling between the two countries.
The town is not very tourist orientated but its worth a walk around to see real life somewhere so different from home.
The Fort
The fort, also called Khasab castle,  was built by the Portuguese in the 17th century. It is  small and perfectly formed, a perfect tourist experience.
For 5 AED you can see the skills used by people living in this inhospitable area.
In the courtyard there are traditional boats made of planks sewn together with coconut thread.
There is a reconstruction house of the lock. Built of thick stone and partly underground its designed to keep things safe while the occupants are away.
Cleverly the storage containers are put in place before the walls are finished and they are too big to fit through the doorway so they cannot be removed.
A Dhow Cruise
The only other tourist attraction here is a dhow cruise.
This takes you along this dramatic rocky shore line .
Here the mountain valleys have flooded as the Arabian tectonic plate has pushed under the Eurasian plate. So the peninsular is very slowly sinking.
The boats have shade and fruit and water is provided.
You get a three hour cruise along the coast passing small villages and getting a close up view of the striking folded cliffs.
The boats stop near playing dolphins, we got a really good view, then you  stop off at  Telegraph Island for swimming.
  The island, Jazirat al Maqlab, is about a mile of the coast. During the expansion of the British Empire in the nineteenth century a telegraph repeater cable was built on the island to boost messages on the London to  Karachi telegraph cable. This was a bad posting for British officers as the heat was unbearable in summer and the locals were very unfriendly. So when they became desperate to leave and go back to home they had to go "round the bend" the bend in the Straits of Hormuz to get back to civilisation.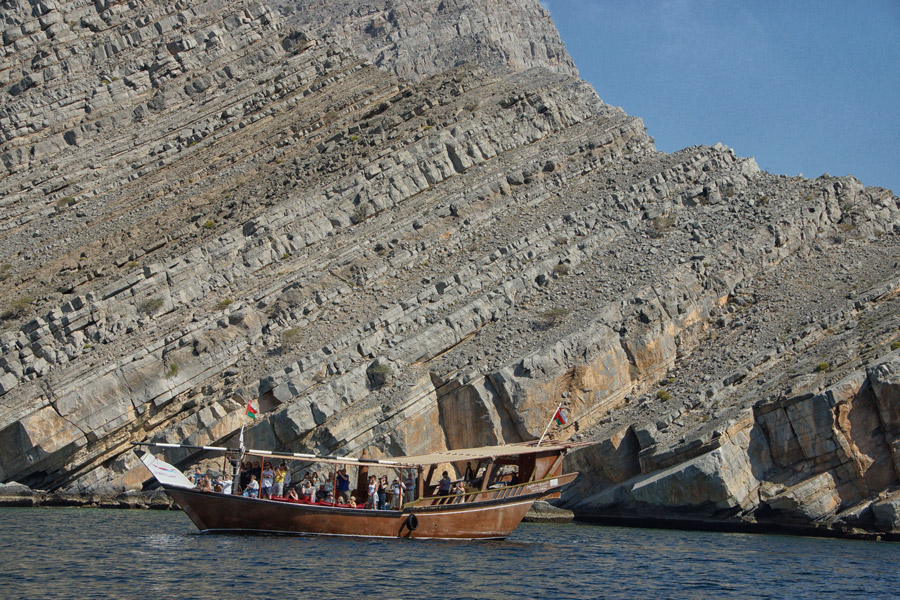 A lovely day.