Two separate terrorist attacks in 2015 made Tunisia a no go area for British tourists. But with extra security around tourist sites the government no longer advises not to travel to most of the country. There is so much to see in this North African country, it has everything history, culture, areas of natural beauty, interesting food, and if you go at the right time of year, great weather.
One reason this makes such a good holiday destination is the variety of things to see and do. There are many famous Roman remains but there are natural wonders,  salt lakes, dramatic gorges, oases, caves, and  beautiful beaches. Then there are the old town centres and the markets and one of the must do in a lifetime train journeys-
The Red Lizard Train.
It leaves from Metaloui station following the path of the Seldaja gorge along the old mining train tracks. Once it  belonged to the Bey (governor) Of Tunis but now it takes tourists for a scenic trip. It is a great experience purely for tourists to take photos but it doesn't feel artificial. Perhaps because its not very comfortable and the scenery is so outstanding you really could be exploring the wild countryside. You only have to ignore the Japanese phone in your face.
Next on to Sbeitla for the nearby  Roman ruins at Sufetula.
Sufetula
The Roman ruins of Sufetula are the best preserved in Tunisia. They are on the Roman road between Carthage and Theveste in Algeria. Built in the time of Vespasian this now poor area was  rich at the time because of the olives grown nearby.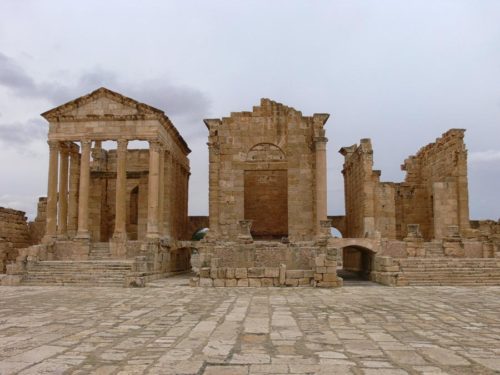 The Capitolium was built to worship Jupiter, Juno, and Minerva. Three separate temples are apparently unusual.
A great place to just wander round.