When we visited Orkney on a beautiful summers day we knew it was worth another visit. We just didn't expect it to be so soon.
This time, later in the year, the weather lived up to its reputation and it rained – quite a lot!
But we were determined to visit Skara Brae, a stone built neolithic settlement on the bay of Skaill. It is said that only Egypt and Pompeii have such well preserved houses. They were used between 3200 and 2200 BC and then spent forty centuries covered by sand.
In 1850 a storm took the top off a large grass mound exposing signs of stone buildings. The local laird excavated and found four houses. More digs in the 1920's exposed more houses and in the 1970's carbon daring confirmed the site as neolithic.
Each house has a central fireplace but the most exciting thing is that because no wood was available on Skye the furniture was made of stone so it is still standing instead of rotting away.
There is a bed each side of the fireplace and a huge dresser opposite the door. If only the treasures that were displayed on them were still there.
Orkney's Finest Manor House – Skaill House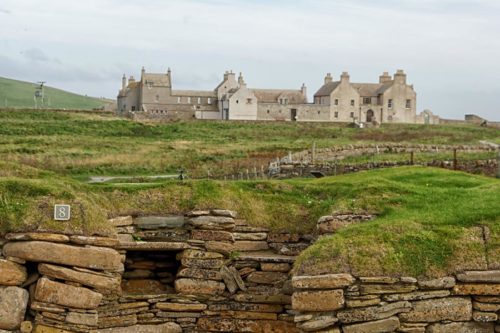 Overlooking Skara Brae is Skaill House your ticket for the settlement  gets you into this seventeenth century manor house, the home of the Laird who excavated the neolithic site. This is a really charming house decorated as a 1950's home. I noticed the north wing is used for holiday apartments. A day dream of a week in the summer was finished by a quick search online – even at £700 a week it is booked up all next summer.
I know its not very pc and I don't want to shoot any big game but I do love this rug.