Next on the Canterbury sculpture  trail is Millers seat by by Tim Norris. It is fittingly made from wood as it replaces the carved trees that commemorated the 1987 hurricane.
We all really liked this, its beautiful and fun to play on.
This one is clever once you realise what it is. Designed by Richard Jones in 1977 for the twenty fifth anniversary of the queens reign it was originally in Longmarket. It was moved during Longmarket's redevelopment and put near Sainsbury's by the river. It says 25 – XXV which is obvious once you know but I didn't until I read the Sculpture walk guide.
Further along the river we found Four Sculptural Sitting Decks, by Angus Ross,  bit of a grand name for benches but they are quite attractive.
The Abbots Seat by Andrew Lapthorn is a bench made of sweet chestnut. Not much to say about this but that its a bench! Not sure if its sculpture though.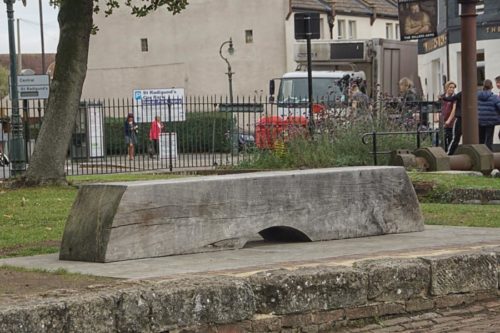 Bulkhead by Rick Kirby is outside the Marlowe. This was intended to be a temporary exhibit but was so popular the council bought it.
On to the High street for the Chaucer statue. This hasn't been in place long and the picture in the trail is a bit misleading as it shows a tiny un-obvious detail. If you didn't know Canterbury well you might not find this just by following the instructions.
Nearly Finished!
Kids were getting a bored by now, and we were outside  the two best coffee shops in Canterbury, Boho and Patisserie Valerie. Very tempting but if we stopped here the last stop would never happen.
Greyfriars garden is one of the nicest places in Canterbury , so close to the shops but very peacefull.
The Greyfriars seat by Alun Heslop is made of concrete. Its actually really comfortable. Shame about the obscene graffiti surrounding it.
We got to the end of the Canterbury sculpture trail and it felt like a bit of a marathon achievement.