Canterbury City Council has produced a sculpture trail. This is aimed at getting people to see more of the city. So with a large collection of grandchildren in tow we decided to give it a go.
The council states its 3.2 miles and takes one and a half hours to complete. Maybe the children slowed us down but we took nearly three hours and didn't even have a coffee!
Lady Wootons Green
The trail starts at Lady Wootton's Green with bronze statues of Ethelbert and Bertha. The Christian princess Bertha came to Canterbury to marry the pagan Ethelbert so spreading Christianity.
Whitefriars
Luckily the statues are large and solid as I pretended not to know the small children trying to climb them!
Next into the centre of town to find Lamb by Kenny Hunter. Have passed this many times while shopping but never really looked at it. Yes it is a lamb!
The pits is in Whitefriars shopping centre. Sandblasted into the york stone paving slabs are copies of archaeological drawings of the pits found while excavating the site before its redevelopment.
The Dane John
Next on to Dane John Gardens where you come to Silent Table by Joss Smith in 1999 .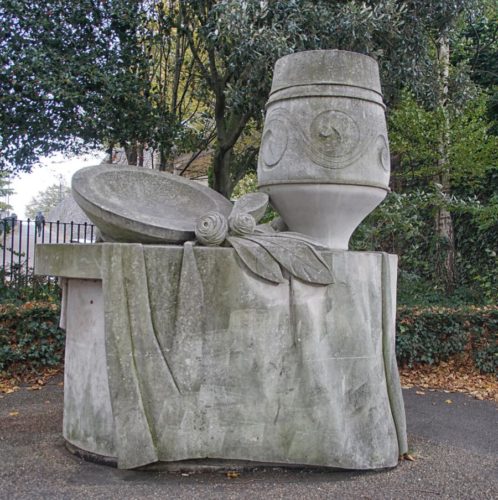 I really don't like this very much.
But walk along the lime tree avenue going through the gardens and you come to Font also by Joss Smith . Apparently inspired by a poppy head this is a lovely focal point in the park. Although last week it resembled a bubble bath as someone had added a bottle of washing up liquid to the water.
Tannery Field
On to the children's favourite in Tannery Fields. Bull by Stephen Portchmouth
The field was used to dispose of waste products from St Mildreds tannery and now has been landscaped with a wildflower area.
Westgate Gardens
I really like the next one but if you want to get a decent photo forget your camera. A teenager with the latest i phone will get a much better picture, even the water will move.
Alluvia lies in the river and you can see this if you look over the bridge at Westgate. The two female figures are  very familiar because they are based on Millas' Ophelia
Half way!