Tenerife means white mountain, named after the huge Pico de Teide. Despite two visits to the island we haven't been to the top.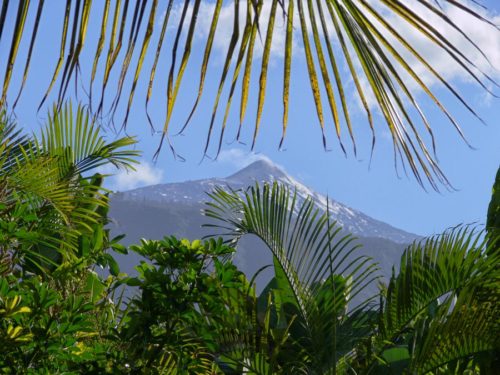 First wind and then cloud stopped us getting further than the visitor centre.
Luckily there are plenty of other attractions.
Submarine Safari
One thing we tried was a "Submarine Safari" This goes into the waters of San Miguel Marina. The submarine is painted bright yellow and looks lovely. A diver goes ahead feeding the fish to ensure you have plenty to look at. It was quite comfortable and good fun but it smelt so bad. Never again.
Loro Parque
The big day out on Tenerife is Loro Parque. These sub tropical gardens have shows throughout the day and there is plenty to see. They have the worlds largest Penguinarium – I think that's a word! There are lots of parrots, I think you can see them rollerskating if that's your thing. We didn't bother but we did go to   the dolphin show. This  is great although possibly no longer politically correct.
A Bus Tour
Then there's always the bus tour round the island. This exists on every island everywhere. Actually on Tenerife there's a choice . We chose what was called the Classic Island Tour.
First stop was Candeleria. This town is the religious focal point of the island as it has the basilica of Candelaria, the church of the virgin Mary, patron saint of the islands. The statues outside are the children of the legendary aboriginal king of Tenerife Tinerfe.
Now for scenery.
The Mirador of Garachico
This is just a bus stop for a quick walk and a coffee and to admire the amazing scenery. It really is stunning.
Last stop was at Las Gigantes to view the impressive cliffs. Another place for tourists to come and look, have a coffee and leave. That's just what we did.