Another taxi, another caldera. This time on Gran Canaria.
The Caldera
 The Bandama caldera is one kilometre wide and two hundred  metres deep. It's a  twenty minute drive from Las Palmas, you pass vineyards on a winding road up to the top.
From the top there are amazing views in every direction. You can walk down into the caldera or just admire the view from the top.
From this view point you can see the whole of Gran Canaria.
Las Palmas
Las Palmas is a big town with several different districts and three miles of beach but the old district is the most interesting.
The cathedral de Santa Ana took four hundred years to build so it contains a variety of building styles.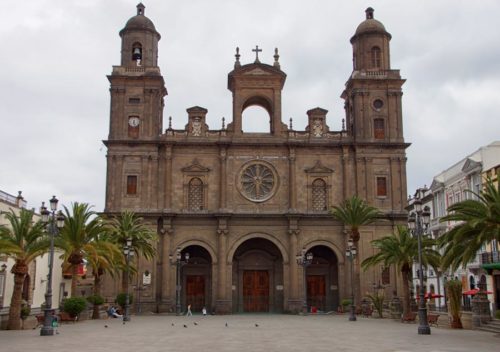 These dogs are cast iron but have been painted green. There are eight of them, called the dogs of the Plaza de Santa Ana they have been guarding it since 1895.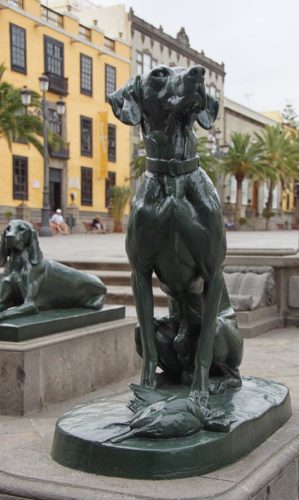 The old area of Las Palmas, called Vegueta,  was built in the fifteenth century. It's a great area to wander around with cobbled streets, palm trees and yellow painted buildings.
One of these is the house of Christopher Columbus or Casa de Colon. Columbus stayed there in 1492 while he waited for his ship to be repaired. The building was rebuilt in 1777 and now it is a museum full of items relating to the voyages of Columbus.
On a hot day it was nice to have a cold drink. The local lager, Tropical, which is brewed on Gran Canaria  is stronger than British lager. Its label has a perro de presa, a large dog. It is made of thermocromic paint  so if the dogs head is blue the lager is the right temperature to drink.
Our labels were blue.