Argentina is a huge country so a couple of days hardly scratches the surface. Its the eight largest country in the world and second only to Brazil in South America.
The capital Buenos Aires has three million inhabitants.
Famous for the  Tango Argentina is also  known to us for Eva Peron mostly thanks to Evita the musical. The Falkland Island dispute which I remember well even though in was in 1982 is something else you think of.
Although control stayed with Britain and a 2013 vote by the islanders was to remain under Britain Argentina does not accept this.
The  Capital of Argentina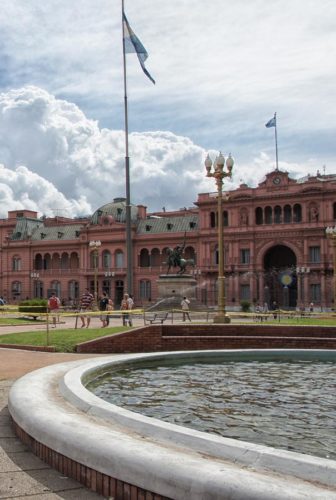 The Casa Rosada is the office of the president in the huge main square Plaza de Mayo. We saw political anti British signs in Plaza de Mayo but no one took it out on us personally. Felt a bit like an American in Vietnam!
With so much to see in such a short time we had to decide what to prioritise. Obviously top of my list was Tango.
Tango in La Boca
We made straight for La Boca a working class area or barrio famous for its brightly painted zinc shacks. Its main street El Caminito follows an old railway line.
On the balcony-  Diego Maradonna, who even I know is the best footballer ever, Eva Peron and Carlos Gardel a tango superstar.
In a street full of outdoor cafes a coffee or a snack gets you a front row seat for a Tango demonstration. We stayed longer than JP would have preferred but some of the dancers were so good I could have stayed for hours.
The obvious next stop was futbol at Bombonera, the famous football stadium. Neither of us cares much about football so we gave it a miss. Too many other things to see. So wandering further  around the very touristy La Boca area  we took lots of photos of the painted houses.
[metaslider id=2695]
Gauchos were the other priority on my list but they will have to wait until tomorrow.