Buzios
Sailing along the coast from Rio you arrive at Buzios. a stunning archipelago with twenty three beaches, it is the holiday playground of the rich Brazilians.
We took a tour round some of these beaches and and each was was better than the one before with soft sand and wonderful views.
The houses were pretty impressive too, many of them belonging to superstars such as Madonna and Mick Jagger. I don't suppose anyone else could afford them.
In 1964 Brigitte  Bardot  came here  to get away from the press  with her Brazilian boyfriend.
She  turned a little fishing village, a three hour drive from Rio, into a desirable place for the rich.
A statue commemorates this and she gazes out to sea forever.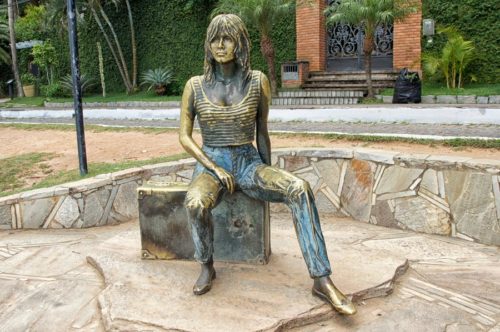 Along the Coast to Paraty
While Buzios is certainly one of the most beautiful places we have been to  Paraty, a little further along the coast, is much more interesting.
It's on the Costa Verde and is a Portuguese colonial town with a fascinating history. The town was once an important outlet for the export of gold bound for Portugal.
[metaslider id=2619]
The streets of Paraty are cobbled with very high pavements and  are designed for the regular flooding from high tides at full moon.
It is quite hard to walk around but so interesting it is worth it. We did ride around in a horse and carriage for a while but that had its own problems. First the carriage drivers were having a huge and violent looking argument so we took a walk round the block until they calmed down. When we dared to go back we did get a carriage but  found that the roads are so uneven you get a very bumpy ride!
Then we tried to get a coffee but everyone only wanted to sell us a meal. No one ever needs  extra food when you're off a cruise ship for a day!
Eventually we found somewhere to just get a drink but it was quite hard work being a tourist in Paraty.
Shopping was easier, there are many ateliers amongst the small shops in the centre. We found an interesting and very unusual  jewellery maker and brought necklaces made from old Portuguese coins.
Great souvenirs from a fantastic place that we still wear.