Tresco is the second largest Scilly Island. It is just two miles long and the only one privately owned.
It's thirty miles off the Cornish coast so many plants  flourish here that will struggle on the mainland.
We landed at Carn Near, from there is is a ten minute walk to the garden walking past gorse bushes and agapanthus.
The Tresco  Abbey Garden
Created  next to the ruins of a Benedictine abbey the garden was first established in the 1830's by Augustus Smith. The seventeen acre garden is on a south facing terraced slope.  Californian pines and Holm Oaks provide shelter for the tender plants and at the lowest point of the garden evergreens protect from storms,
There are 6,000 species from eighty countries. Protea, echiums, palm tree , strelizia and masses of succulents stood out for me but there are also masses of pelargoniums bordering the many paths through the garden.
Red squirrels have been introduced as there are no greys on the island. When you are used to seeing the greys it is surprising how small and delicate the reds are.
We were so lucky to have the head gardener Andrew Lawson  to show us round.
His love of plants in general and this garden in particular would enthuse even a non gardener. He told us so much detail about the planting and happily answered everyone's questions.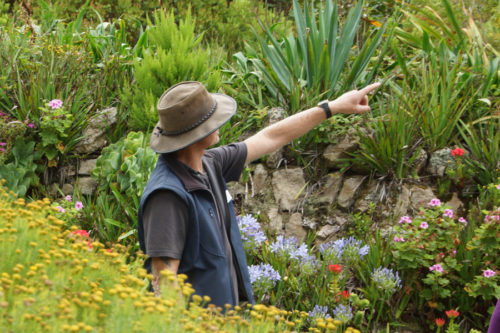 This place is heaven for gardeners, photographers and nature lovers. Although surrounded by the trees for shelter it doesn't feel closed in and every corner gives you a different viewpoint. I couldn't believe how many planted pots there were, you see groups of them  at every turn. Andrews enthusiasm almost makes you think that you too could grow some of theses exotic plants and indeed there are several varieties of seed available to buy. The seeds are collected from the garden for sale. So I bought a packet of Echium Pininana , very tall blue flowers native to  the Canary Islands.
Of course my garden will be full of these next year ( I can dream can't I!)
Valhalla
The garden also houses the Valhalla Museum, a collection of shipwrecked figurehead collected around the Scilly Isles.
A fascinating collection to wander round after the garden.
Then on to  a well deserved coffee before the walk back to  Carn Near.