I might not risk it now but at the time a summer holiday in North Korea seemed a good idea.
People think its hard to get in but really its easy. You can't be a journalist, a photographer or American. Your boss has to vouch for your reliability and you have to use an approved tour company operating from Beijing. If you can do all that its easier than getting in to Russia or India. The tour company gets you a visa and looks after you from start to finish. There is no wandering off on your own or asking for an itinerary change but if you can live with that then its a holiday to remember. Of course you also have to consider the ethics of travelling to some places but if no one goes how can anyone judge the real situation?
Pyongyang
The capital of the DPRK ( democratic peoples republic of Korea) is Pyongyang. It is a privilege for Koreans  to live here but we didn't find out how they felt about it as we weren't allowed to talk to them.
Our Hotel
 The Taedong river runs through Pyongyang  and our foreigners hotel was on an island in the middle of it. The reason for this is so  you cannot leave! Attempting to walk round on your own will get you firmly sent back and your tour escort (minder) will get into serious trouble. We had a driver and two tour guides who checked on each other as much as they did us. The hotel is an experience in itself. We were given strict instructions to only use the lift to go to our own floor. I think there is a fancy restaurant at the top but we didn't see it. We did go to the mind boggling, dimly lit,  basement were you can go ten pin bowling, eat, and watch the Chinese gamble in the casino. The contrast between this and life just a few hundred yards away is astonishing.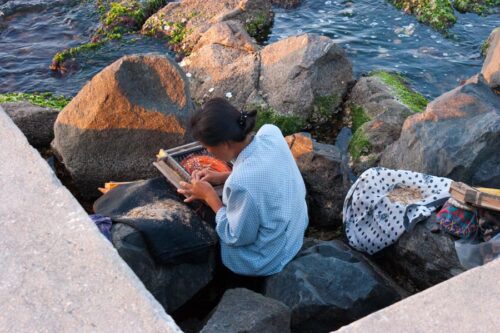 Our itinerary was carefully managed and involved the guides getting us permission each day which was sometimes denied. They were very evasive and we never really found out why things were changed but we were treated like important official visitors wherever we went. A big change from most holidays!
Liberation day is a big holiday celebrating the end of Japanese occupation and we were taken to see people dancing in the park. They also have mass dances in Kim Il Sung square but the real highlight is the Arirang Mass Games.
Arirang Mass Games
Rungrado stadium is the largest stadium in the world and a completely surreal experience. There are over a hundred thousand seats but despite the huge numbers there is no pushing and shoving. So you sit surrounded by perfectly behaved Koreans watching the biggest show in the world.
Arirang is an old, beautifully haunting, folk song played everywhere and the display is based on this. A backdrop is provided by students holding  up constantly changing coloured cards  and in the arena the participants move in perfectly synchronised steps to provide a show that's really hard to describe accurately. Individually I guess each move is fairly basic but the effect of so many costumed gymnasts performing in perfect co-ordination is amazing.