Rotorua is famous for geothermal activity, basically boiling mud!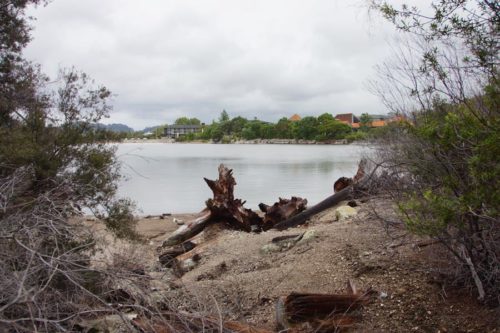 A long bus ride brought us to Rotorua, also known as Sulphur city because of the all-pervading smell of rotten eggs caused by the hydrogen sulphide in the air.  We had a nice little chalet in a holiday park so we could cook for a change. We also had a TV  which we turned on straight away only to find there is nothing more boring than NZ television. A fun thing was the communal hangi steam oven. We bought vegetables and meat from the local shop and put them in a metal casserole dish. Then you just place it in the outdoors oven heated by the rocks. Three hours later your meal is ready.
Doing The Tourist Thing
Rotorua is geared to tourists so we decided to take advantage and do a few really tourist things. First something unique – rail cruising. There is an unused railway line between Mamaku and Tarukenga. Along this track you can "drive" in a mini-cabin at twenty kilometres an hour listening to a commentary about the places you pass. The "driver" has a horn and a brake but speed is controlled automatically. This was fun just for its novelty value.
Next was a duck tour in a genuine amphibious WWII landing craft. This is half boat, half truck so first it took us round the local sights by road. Then on to lake Tikiapu and lake Okareka where it drove straight into the water and gradually turned into a boat. With jokey commentary and a duck whistle to blow we had a great time.
Now for the ultimate tourist trip, a visit to a Maori village with dinner and a dance show.  You start with a guided tour of the village where you can see how the people used to live you see weaving, and tattooing then you are shown the traditional hangi methods before you have a meal. After the food there are songs and speeches before you go back to your hotel.
What We Came For
After being distracted by our fun side trips we did manage to see the town and go on the geothermal walk.
Eat Street is just what it says. A good choice of nice food. The Government gardens are beautiful with a rose garden and lawns.  There are bowls and croquet clubs. I think the museum is closed now but the building is lovely.
Kuiran Park is the place to see  the geothermal activity. The winding paths lead you to boiling mud pools and areas of escaping steam while keeping you safely behind a wooden fence. It does smell unpleasant  but its worth it.