The Cheonggyecheon Stream is something not to miss. It runs for five miles through the centre of the city.
Cheonggyecheon was once heavily polluted but an urban renewal project has restored and cleaned it. Now it is a nice way to walk the city with stepping stones in several places and mosaics or murals on the walls. Its popular with the locals in the evenings and has pretty lights in some places.
Seoul is a great shopping destination for amazing cameras and all sorts of tech to – well anything you can think of. There are many underground shopping centres as well as the traditional Nandaemun market. This is huge, it covers sixteen acres where 10,000 retailers run  a maze of stalls and small restaurants. You can even get a map which shows you the different areas , Stationery Alley, Military Equipment Street, and Eye Wear Street to name a few.
This is a great place to try Korean Cuisine. Kimchi (fermented cabbage) isn't always mind blowingly hot and bibimbap is delicious if you choose the right one. Use the pictures to help you although this is not foolproof! We had one meal in which neither of us could identify any of the ingredients.
Found this in a shopping centre.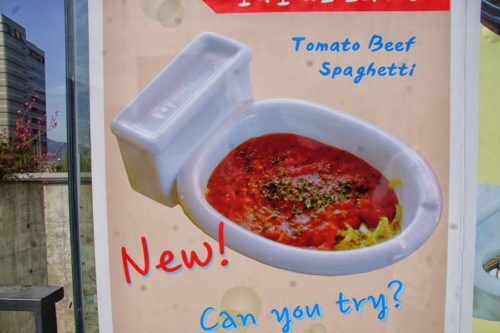 Couldn't face it!
Another revelation is the airport. I wouldn't have minded a flight delay as there is so much to entertain you its like a tourist destination on its own. Best was the Korean Traditional Culture Experience. Here traditionally dressed ladies show you how to do old Korean  crafts. I made a lovely cardboard bowl decorated with tissue paper in bright colours. I carefully carried it all the way home and still have it. The waiting areas are clean and comfortable and the food was a lot better than Jamie's van at Gatwick.