A journey on the Trans Siberian Express is a once in a life time adventure.
It has to be, doing it once is crazy but you would have to be completely nuts to even contemplate doing it twice.
The idea of a trans Siberian  journey over  9,288 kilometres  and eight different  time zones from the supposed comfort of a warm train is very appealing. Its the longest direct rail route in the world and goes through eighty cities and towns crossing sixteen rivers. Sounds wonderful but seven days of Siberia is a real endurance test with  no possibility of quitting half way.
We started with a few days in Moscow which has changed a lot since our last visit . Its had a coat or two of paint and is much brighter and more cosmopolitan. Ten years ago GUM the famous department store on the edge of Red Square was quiet and a bit gloomy. Now its decorated with fake trees appropriate for the season with bunting and posters everywhere. You can bank , find a chemist  or a florist, buy amazing food in the huge delicatessen and  then have meal before you browse Gucci, Dior or Max Mara.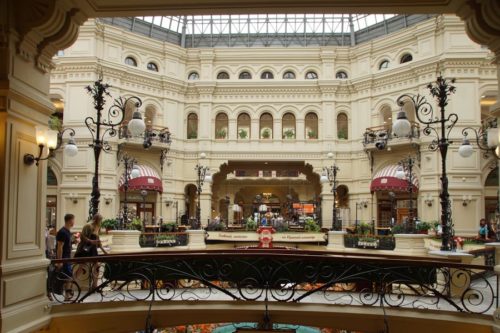 Unfortunately the budget only allowed window shopping and a look at the famous fountain before we moved on to  Saint Basil's and The Kremlin.
The Kremlin is a walled area of cathedrals, palaces and government offices at the side of Red Square. You can get tickets to go into the armoury and the cathedrals are museums but its good just to look at the architecture. The Tsar bell is interesting, the largest bell in the world weighing 261 tons,  it was cast in the 1730's but broken in a fire shortly afterwards.
The other must do is the world famous metro. There are twelve different lines and two hundred stations. One journey costs 55 roubles and six and a half million journeys are made each day! You can get a map which tells you the best stations to visit, they are all different and many of them are deep underground.
Then in the evening time to go to Yaraslavsky Station to start our train adventure.