Eight hundred and eighty nine miles from Moscow Yekaterinburg is in the Urals on the border of Europe and Asia.
A popular trip is a seventeen kilometre drive out of town on the Moskovsky Tract, the main road,to see one of the marker points. This one is the most popular.
Its a good photo opportunity you must drink champagne on both sides of the border, there are a lot of empty bottles piled up. Russian wedding couples also come here to tie a ribbon on the trees for good luck and be photographed  at the marker.
Close by is a much grimmer monument. Its to the victims of political repression. Eighteen thousand victims were buried in a mass grave in the 1960's.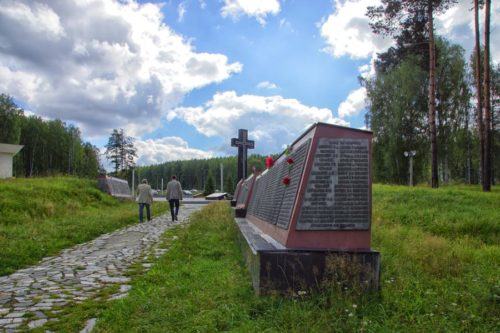 The city is huge with wide streets and a lively atmosphere in the evening along the Iset river. The beautifully painted Sevastyanov House on Lenina Prospeckt is the official residence of the Russian president. From here you can walk along the riverside where there's plenty to see. The giant keyboard is fun and nearby there is a Beatles tribute. Next we found the so called Black Tulip monument to soldiers killed in the  Afghan war. The name comes from the nickname of the aircraft used to carry the dead bodies back to Russia. The names  of the two hundred and forty dead soldiers are engraved on the ten metre high pylons surrounding it.
The must see sight is the Church on the Blood built on the site of Ipatiev House  where Nicholas II, the last Emperor of Russia, and his family,  were shot by the Bolsheviks during the Russian Civil War. The house where it happened was only demolished in 1977 and the new church on the site was completed in 2003.
Back on the train and a long journey  into Siberia.