The Green room at the Marlowe theatre is not an obvious place for morning coffee but a good choice if you need to go to the Marlowe to book a show.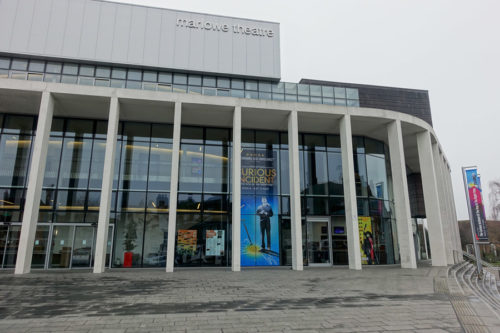 The choice is limited, there are a few different coffees but not much food. Just croissants when we arrived.
Only a good location if you are already at the Marlowe
The service was pleasant but a bit slow.
Plenty of seats, most people there seemed to be working on their laptops.
The coffee was nice.
Not much food on offer.
Reasonably priced.
Huge number of toilets as used by the theatre.
Due to there being no food on offer an hour later we found ourselves in cheap and almost cheerful Greggs.
 Here we found a huge slice of  delicious old fashioned pink iced cake – worth the wait!
Verdict
The Green room is pleasant but don't go in the morning  if you're hungry. However they do have a pre- theatre dinner menu. Plan to try that sometime.
And of course Greggs is cheap and convenient.