George Bernard Shaw called Dubrovnik  The Pearl of the Adriatic and its true that this city on the Adriatic is possibly the best walled city in the world.
The famous old town is enclosed by huge sixteenth century stone walls . You can walk all the way round the two kilometres of walls in an anti clockwise direction but some parts are quite steep and the real fun is walking the streets within them looking for little hidden corners. Its also quite amusing watching well dressed tourists struggle up and down the hills and steep steps with their huge wheeled suitcases but that's probably just me!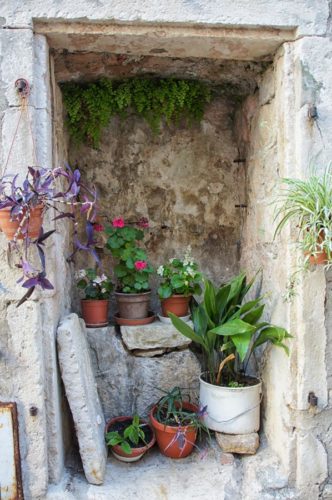 If you enter the old town by the Pile Gate the first sight you come to is the Onfrio fountain was built in 1483 but damaged in an earth quake and lost many of its original statues. Then again in the shelling of 1992 it was damaged. Now it has been beautifully  restored and is one of the most famous landmarks of the city. As you walk on you travel along the wide pedestrianised limestone street named Placa but called Stradun by everyone.  Here even the shade of green paint for the shutters is regulated so they all match.
Dubrovnik's cable car goes up Mount Srd in less then four minutes for a view over the terracotta roof tops.
After the break up of Yugoslavia Dubrovnik was besieged for seven months and heavily shelled. The buildings were repaired according to UNESCO guidelines so they fit in perfectly but the bright colour of the new terracotta stands out showing how much repair was needed.
At the harbour there is a market and you can get a boat excursion to many of the nearby islands.
Away from the old town a walk around the the cruise port of Gruz is surprisingly interesting. Our ship was docked … moored? there so we had a few free hours. There are lots of expensive boats to look at and if you walk far enough you reach a pebble beach popular with the locals. But the fascinating thing is the display of military equipment used during the Yugoslav wars. At first glance they look improbable but they were used in the defence of the city.
The Sveti Vlaho (the name of Dubrovnik's patron saint) is a blue painted vessel belonging to the Armed Boats Squadron a volunteer unit of the Croatian Navy who blockaded the port during the siege of Dubrovnik.  A reminder of the violence such a short time ago and so close to home.