Away from the coast there are many historic villages that look as if they have been forgotten by time.
Silves
Silves is a traditional Western Algarve town and we chose to visit it first.
Its on the banks of the Rio Arade with a beautiful paved river front next to a roman bridge.
As you walk up its steep cobbled streets heading for Castelo de Silves, the best preserved castle in the Algarve, you pass the municipal market.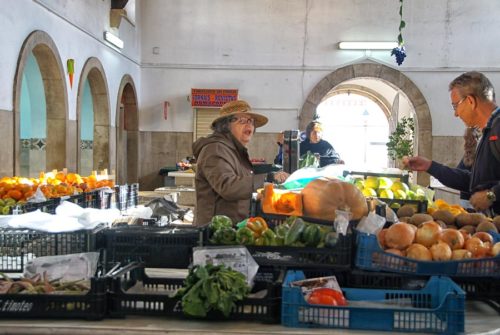 Once at the castle you have a view over the town as you stand by the statue of King Sancho and If you look up you see the many stork nests.
On to Lagos
Our next visit was to Lagos on the Rio Bensafrim. Once the centre of the European slave trade it is now a lively town with many upmarket restaurants, cafes, and shops. This was a great place to have coffee and cake while watching the locals shop.
There is a small museum in the slave market building. We visited it but it was a bit….. odd, not many items and lots of writing and spotlighting.
To the End Of The World
Last stop of the day was Cape Saint Vincent, known as the end of the world.
This wild and remote place was once thought to be as far as you could travel , sailors believed it really was the end of the world. In fact it is the most south westerly point of mainland Europe. It has a light house and you can walk around the area admiring the cliffs. There is good  coffee available and it really is a nice satisfying place to visit. We even bought an "End of the World" souvenir.