Winter Sun in The Gambia
The cold wet  start of November makes you want to go somewhere warm. The obvious and cheapest option is a beach holiday. Great, but we don't do beach holidays. I've never been able to spend any length of time lying in the sun. A quick paddle and I'm done. So last November we booked  week at the beach with plans to go to as many places in the country as we could.  As it's only a six hour flight and there is no time difference The Gambia seemed a good bet. You need malaria tablets which isn't great but nowadays you can get them for a reasonable price in a supermarket chemist. So when we   found an economical package holiday with  flights, transfers and hotel all included we booked it. Sorted!
The Beach and Beyond
Internet research showed several local tour operators providing one and two day tours around the country so the plan was to try to find something to do each day. Our hotel was OK, a standard tourist place with three different bars and several restaurants spread over quite a large area with gardens and a beach.
Outside the hotel grounds we found a supermarket, well that's what they called it, cigarettes biscuits and soft drinks, if you needed anything else you were out of luck.
Walking along the beach meant a great deal of hassle. You meet a fruit lady , a sewing lady, a massage lady, a tour man and, a boat man. Everyone can tell you have just arrived and their aim is to be the first to claim you as their customer. They will give you a business card, often a piece of torn paper with a name on it, sometimes a neat little laminated picture. Once you have these they are your protection from all the others. Tell everyone you have been in the country for a week and already have a fruit and massage lady. They will respect this and your peace is restored. Well mostly!
A visit to Serrekunda Market
[metaslider id=663]
Kachikally Crocodile Pool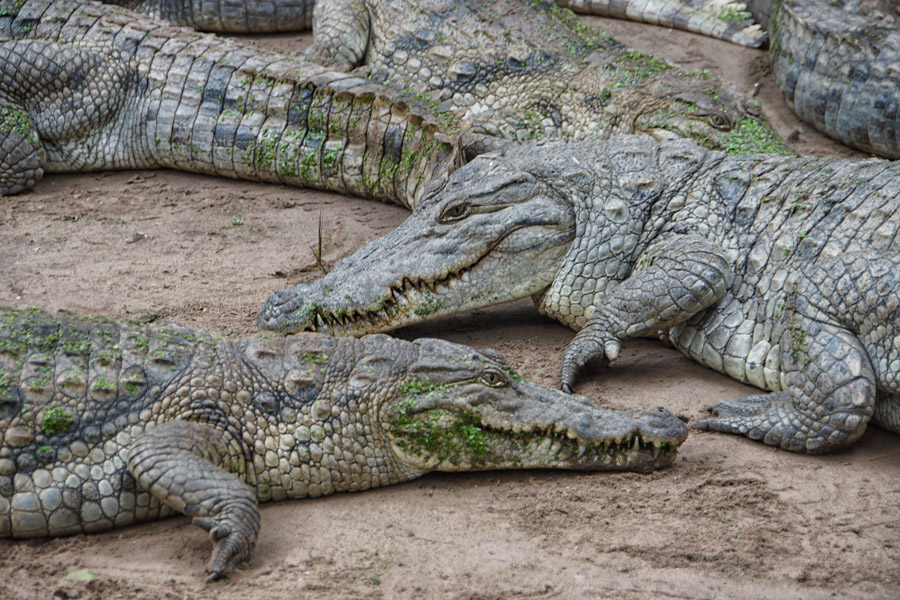 Then a visit to a crocodile farm, about a hundred crocs busy ignoring you. You get to stroke their heads!
We managed to leave with all our limbs still attached.
On to Lamin Lodge for Coffee
coffee break – sharing donuts with the monkeys.
This wooden restaurant on stilts is in the middle of a mangrove swamp.
A Look Around the Countryside
We had a lightening visit to a school to see the local education standards. The kids were a bit shy but smiled at us.
They must be used to being on parade in return for  pencils and the odd packet of sweets.
I found this a bit uncomfortable but its how things work in The Gambia.
Then at the end of our tour time to relax on Paradise Beach. It was surprisingly peaceful with few of the hassles we experienced at the hotel beach. Just a couple of bumsters, the young men who want to be your best friend and holiday guide, trying to sell us drinks and boat trips. Twenty minutes strolling on the sand and we were ready for the drive back to our hotel.
 Just in time for happy hour, two for one cocktails,  and a seat by the pool.
Maybe this sort of holiday isn't so bad!