For someone who lived through the sixties San Francisco has a lot to live up to. Turns out its smelly and dirty in places but in others it does ok.
Famous for Alcatraz ,the Golden Gate bridge and fog, San Francisco will be forever known as the hippy city even if no one has flowers in their hair anymore.
Pier 39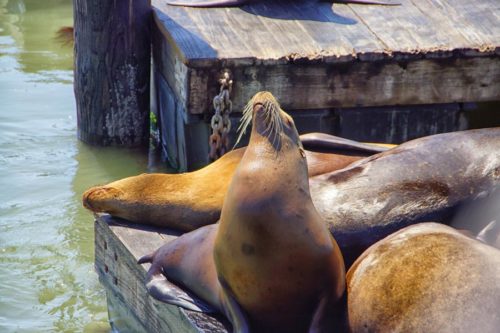 This famous pier is really just for tourists but its a good place to start. There is a view of Alcatraz but the main attraction is the specially built floating wooden dock covered in sea lions. They bask in the sun and make a lot of noise!
Alcatraz
The day trip to Alcatraz and Angel island needs to be booked ahead as it is so popular. It was the toughest prison in America. Some inmates were gangsters but most had just caused trouble in other prisons.As its over a mile  from the coast it was believed to be escape proof. The staff and their families had to live on the island but in 1963 it was closed because it was so expensive to run. After a ten minute sail you arrive at the island and a very steep walk up to see the cell blocks. You can wander around to explore as much as you like as you like but you must be on time for the boat to Angel island or you will have to buy a new ticket back to  pier 33.
Angel island is a state park. It was once a quarantine station to screen Asian passengers for Bubonic plague . Between 1910 and 1940 it processed immigrants but now you get a tram ride round this very pretty island.
Muir Woods
Muir woods is a redwood forest. The highest tree is 258 feet high. Its next to the pacific so it has the  marine fog that San Francisco is famous for. This encourages growth and the trees use the moisture in dry summers. Its part of the National recreation centre and to get there we needed to cross the famous Golden Gate bridge.
This suspension bridge has been declared one of the wonders of the modern world. The official colour of the bridge is International Orange to enhance visibility in the fog. There is a movable median barrier to help control traffic movement. Four lanes run southbound into SF in the morning and then for the journey home this is reversed and four lanes run north. At quiet times there are three lanes each way. It connects San Francisco to Marin county so we stopped for a while in the charming  Sausalito , full of houseboats and artists with a great view of the bridge.
My Favourite Place
I loved Central Park but The Golden Gate Park is even better. It is huge  – over a thousand acres . Three miles long and half a mile, wide luckily we got the trolley from one end to the other. Among other things there is an oak woodland area, lakes, play parks, even a herd of American bison. The Conservatory of Flowers is a huge Victorian style glass house holding one thousand seven hundred species of plants and well worth visiting. We also enjoyed a ride on the carousel. There are sixty two colourful animals to choose from including dragons, camels, frogs,a horse and a pig. Two visits to this park  aren't enough there is so much to enjoy.