We took an Amtrak train to Seattle, slow but comfortable. We arrived in the evening and saw a lot of homeless people on our way to the hotel.
The Space Needle
In the morning things looked better and Seattle is actually a really nice city. To get to the space needle we took the mono rail. This takes you to the Seattle Centre where there are plenty of things to do but we needed to prioritise as we had such a short time available. The needle was made for the 1962 worlds fair and has been renovated several times. We nearly  always choose to go up the tallest tower in a city and this didn't disappoint. Its 605 feet high and you get a fabulous view of Mount Rainier and Puget sound. As a bonus you also get a glass floor and and a personalised email photo.
Pike Street Market
This fish market is famous for the display the fishmongers put on when you buy fish, throwing and catching them dramatically.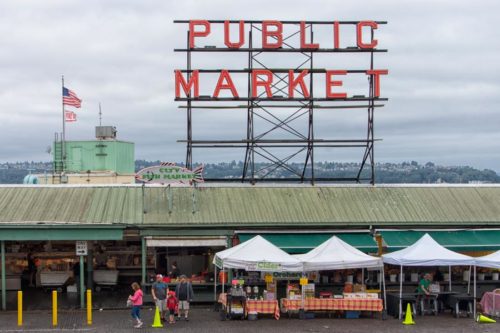 Underground Seattle
This tour was high on our list because there's nothing like it anywhere else. Seattle was rebuilt on the ruins of burnt wooden houses. In 1889 the great Seattle fire destroyed many blocks of wooden houses around Pioneer Square. The old city was built below sea level and often flooded so it was decided to build only brick or stone  houses and to raises the level of the streets. This solved both the flooding and the fire risk. The ground floors of the new buildings were designed to eventually become basements as the roads were raised and slowly the older, lower levels disappeared from sight. They were condemned in 1907 and forgotten about. Now some have been made safe so you can tour a small part of this area. The guide is full of good stories as you wander round these small dusty, enclosed streets and shops.
Bainbridge Island
Lastly this small island in Puget Sound is worth it just for the view of the Seattle sky line. The Washington State ferry takes you on the short journey. Here you can walk into the woods by the beach or go into the charming town for shops and coffee.