Vancouver is a large city in Western Canada. We arrived by bus from Seattle. Getting into Canada is no easier then getting into America but we made it.
The city grew up around the now trendy Gas Town. that's where you find the upmarket restaurants and refurbished buildings housing quirky shops. However we discovered our hotel was in a less salubrious district. We have never passed so many junkies all lying on the pavements. They didn't give us any trouble but it was a bit intimidating (and the hotel was weird!)
Stanley Park
This park is one of the largest urban parks in North America and that's saying something as most of them are enormous. It's a thousand acres with forty miles of trails. It was once home to the coastal Salish people. There are totem poles in a few areas, still a novelty for us.
China Town
The Ming dynasty scholars garden is in Chinatown. Its a fifteenth century style garden built in the traditional way , no glue, screws or power tools. The first of its type built outside China its peaceful and beautifully designed.
 Capilano
The suspension bridge park was first built in 1889. Its 450 feet long and 230 feet above the Capilano river. At first it was made of hemp and cedar wood but this was replaced with a wire cable in 1903. There were lots of people on it so it swayed a lot but it was fun. There are other things to do here, the nature walks are great. The local natives were invited to place totem poles around the park. Near the entrance there are good displays of the parks history.
Vancouver Island
We took a day trip to Vancouver Island which isn't as near to the city as it sounds. The town on the island is Victoria, the capital of British Columbia. Many indigenous people live here and its reflected in the items for sale in the shops. There are many paintings and crafts from the First Nation (or original) people for sale. I bought a beautiful copy of pen drawing of a Haida eagle. The Eagle represents grace, power and  intellect. It is a sacred and noble creature  for  the First Nations people of the Northwest Coast.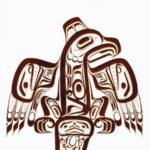 Butchart Gardens
This world famous garden was the main reason for our visit. Although it rained constantly while we were there the garden is very beautiful. There are fifty five acres tended by fifty gardeners. They plant nine hundred different bedding plants. Rather them then me!