Dublin, the capital of Ireland is on the river Liffey. The Droichead Na Life or Halfpenny Bridge is famous but just one of twenty one that cross the river.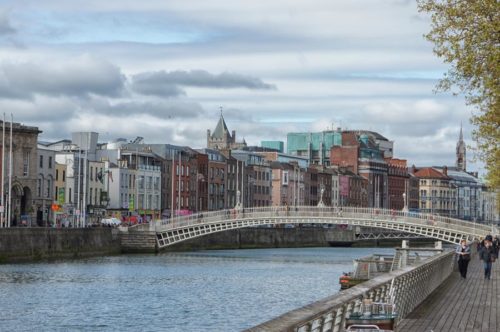 The obvious first stop is for a pint of Guinness.
The Guinness Experience
This self guided tour starts at ground level with a display of wooden barrels. You progress upstairs, the advertising displays are fascinating, and further up you get taught how to pull the perfect pint. I am the proud owner of a certificate saying I have crafted a perfect pint of Guinness. It is displayed in the downstairs loo. At the top you get a fantastic view of the city in the bar. It really does taste better there, they say Guinness doesn't travel well and its true.
After Guinness now on to Jamieson's whiskey
Jamieson's Whiskey Distillery Tour
Ireland's most famous whiskey was first produced in 1870. Nowadays its made in county Cork to be near a source of good water and a barley farm. But the original distillery building makes for a good tour complete with a tasting.
Enough alcohol now onto more serious sightseeing
Kilmainham Goal
This goal was built in 1796 but closed in 1924. It held ordinary prisoners held for stealing food and kept five to a cell as well as more serious offenders who were often transported to Australia. But the most famous inmates were the leaders of the 1916 Easter Rising. Even idf you know very little about Irish history the names will be familiar and the excellent guides bring the story to life. Its a sobering but fascinating experience.
The Book of Kells
This is a must see. Its a ninth century manuscript of the four gospels. It was decorated by the monks of Iona and is one of the most famous medieval manuscripts in the world.
You also get to see the most beautiful library I have ever been to. Trinity College Library contains three million books over eight buildings but the star is the main chamber called the long room. It contains 250,000 of Trinity Colleges, books so many that they had to raise the ceiling to accommodate them.
There is lots more to see in Dublin –  if you go to find the statue of Oscar Wilde in Merrion square you will also see the beautiful Georgian houses with the painted  front doors that Dublin is famous for.