Despite spending some time in Southern France this summer and visiting several lavender shops we didn't see any of the famous purple fields.
Not to worry it seems Kent is also famous for lavender!
Lavender flowers from mid June until early August and is big business nowadays. We visited Castle Farm near Sevenoaks,  the largest lavender farm in the country. It even has it's own distillery.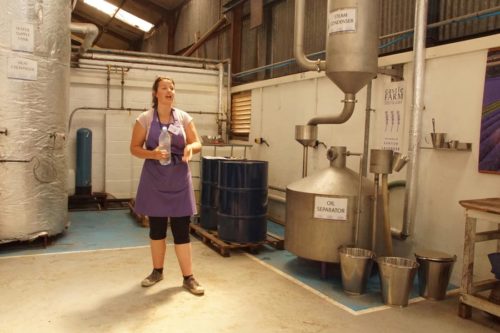 If you want a close up look of the fields you need to go on a guided tour. This was fun, we were escorted round a couple of fields and learnt about the different types of lavender which relaxes you and  lavandin which  contains 10 -12% camphor so is a mild stimulant. It's used to clear a blocked nose or as an insect repellent.
We visited the distillery which uses steam to produce the essential oil. You can even have a massage out in the field if you're feeling brave.
The oil has been used for centuries as an antiseptic and for its healing properties. Nowadays the oil is used in perfume, cosmetics, soap and aromatherapy. The essence is used for food. You can buy lavender ice cream or biscuits and even fudge but I chose a jar of lavender marmalade. It really is delicious but although it smells of lavender it tastes of oranges! I also bought a small bottle of sleepy scent, a mix of lavender and hops, if only it worked!
The shop also sells other related products from purple tea towels to dried flowers. I discovered I have a fortune in hydrangea heads in my garden.
At £4.75 each I am worth around £400 more than I thought!