You don't have to do anything special in New York, just walking around is enough entertainment.
Of course there are some things you feel that you must do. First eat in a deli. this is a must. We got to sit with real NYPD guys complete with guns.
Bagels and NYPD – great!
Central Park
Central Park has a bit of everything. It's four and a half miles by half a mile wide and has seven lakes and twenty thousand trees. There is a running track, lots of children's playgrounds and even a carousel. An especially nice area is Strawberry Fields in honour of John Lennon. There is an Imagine mosaic. Opened in October 1985, on what would have been his forty fifth birthday, it is next to the Dakota building. This is where John Lennon lived and was shot dead.
The High Line
The High Line is a public park built on a freight rail line in Manhattan. It was due for demolition but saved by locals to become a public space. You can get up to it in several places by elevator. There are artworks and five hundred species of plants. As you wander along there are places to sit along the way then you can just go back down to street level when you've seen enough.
Times Square
Times Square runs between West 42nd Street and West 47th Street. Its not square but quite long. It feels like the most crowded place on earth and has fifty million visitors a year. There are non lights and huge billboards with costumed characters trying to get money for photographs. The McDonald's decor is amazing but the shops are pricey.
The Staten Island Ferry
My favourite day was our visit to Staten Island The famous free ferry goes from Whitehall street in Manhattan to St. George on the island. It takes twenty five minutes to travel the five miles and the main attraction is the view of the Statue of Liberty. It really is a great view but we felt we should try to get more from the journey than that so we explored Staten Island. An unexpected treat was the Staten Island museum. Founded in 1881 its the only general interest museum in New York.  This means there is a bit of everything and full of people's pet projects. Of course this makes it much more fun than the specialist museums. My favourite was the Natural Science Collection with seven thousand rocks and minerals including a glow in the dark display. But if that's not you thing there are thirty five thousand cicadas.
The Empire State Building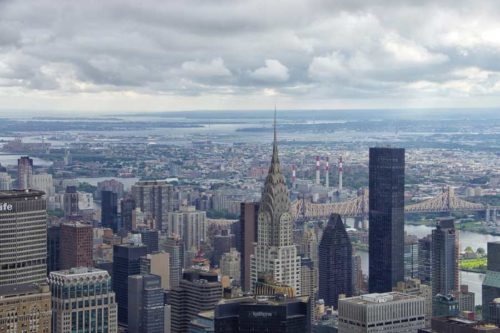 The Empire State Building is an hundred and two story high art deco building. It was completed in 1931. From the eighty sixth floor observation deck you have  view of central park, the Hudson river, and the Statue of Liberty. They say you can see up to eighty miles.You always have to go up one of the tallest buildings in any city for a panoramic view and this was one of the best.