Shops and Markets
To shop for a fake anything go to the Chinese night market running along Petaling Street. Handbags and clothes seem to be most popular but I found some lovely little statues.
Or you can walk a little way and visit the Central Market with its freshly painted art deco front.
Most tourist type  things are on show  here from local handicrafts to paintings. There is lots of locally produced batik which makes an easy to carry authentic souvenir.
Close by the street food in Kasturi Walk is worth the walk.
If you want upmarket shopping there is plenty of choice with Bukit Bintang having a huge mall and there is  a classy mall at the bottom of the Petronas Towers.
For me there are  only so many times you can gaze longingly at a Coach bag without feeling sorry for yourself.
You just have to remember – you can visit a small country for the price of a designer bag. No contest when you think about it.
Temples
Kuala Lumpur has a fabulous china town and arriving at the time of the Chinese new year meant we saw celebrations everywhere.
We found a  Chinese temple close  to our hotel in Petaling Street. The Guan Di taoist temple was packed with worshippers and thick with incense when we visited
There is also the Sri Maha Mariamman Temple built in 1873 it is the oldest Hindu temple in Kuala Lumpur. Mariamman was the protector of the Tamils.
Then on to the thing you have to see if you visit KL. Kuala Lumpurs most famous sight, the 88 stories high Petronas Twin Towers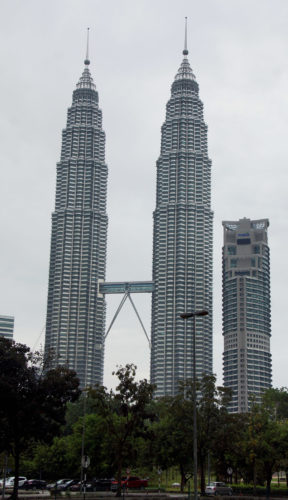 But we chose to go up the Kuala Lumpur tower to get a complete 360 degree view of the city. Possibly not our best decision, I think I'd choose Petronas next time.
From here you can see the twin towers but the most interesting thing was that amazing swimming pool. I'd love to live there!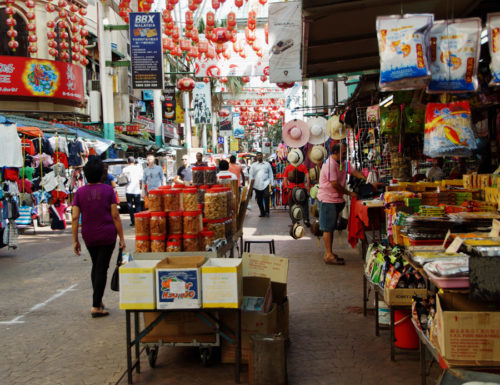 Back to China town for street food.