Norway in June means no darkness, a photo taken at midnight shows how light it is.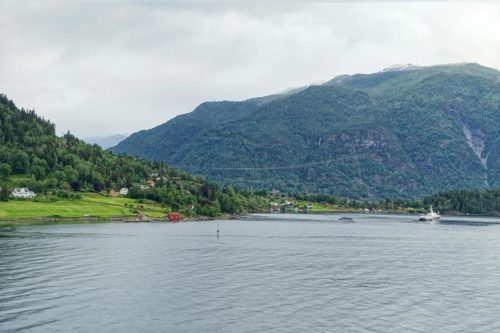 The villages of the fjords are very attractive, we stayed in Balestrand, known for its inspiration for artists since the 1800's. Our hotel had many paintings of the area in its public rooms. Sitting on the terrace in the evening the light was amazing and because it rains so much you frequently see rainbows.
From the centre of the village you can take the express ferry to get to Bergen in four hours or get a ten minute ferry journey to just cross the fjord. On the dockside is an interesting art work – beacon for travellers by Geir Sverre Hjetland. Its a nice place to sit with a coffee from the little aquarium.
Exploring Balestrand
If you stay in the village there are clearly marked nature trails that take you up high out of the village for a view across the water. Then there is the little local church, Saint Olaf's. Built in 1897 its an imitation of the traditional Norwegian stave churches. It has a romantic history, an English clergymans daughter maried a Norwegian and dreamed of building an English church. She died young so he  built it as her legacy after her death. It is famous as the inspiration for the coronation scene in Frozen so my granchildren will recognise it.
Walking Further
Walking on you come to the statue of King Bele on a mound beside the water. Inspired by a local saga it was a gift from the German emperor Wilhelm II who often holidayed in Balestrand. Seven kilometres across the fjord in Vangsnes is the statue of Fritov Den Frokne.  He was in love with King Bele's daughter. This huge statue was also donated by Wilhelm.
Further on  the so called dragon houses come into view. Developed as a copy of viking carvings there are decorated gables with dragon motifs. These were originally built by the local artists. Now they are beautifully maintained as summer holiday homes.
Then for lunch the Cider House is a good option. Not cheap, but nowhere in Norway is, the views from the balcony make it a perfect place for lunch and cider tasting.