We weren't good tourists in Vienna. It has several palaces, lots of beautiful parks and museums.
But it was hot, very hot, and Vienna has lots of the best coffee shops in Europe.
Stephansdom
Saint Stephens Cathedral or Stephansdom is in the centre of Vienna .
It has a fabulous roof with 230,000 glazed tiles. The double headed eagle is a symbol of the Hapsburg dynasty.
It's a long way up but the view is fantastic.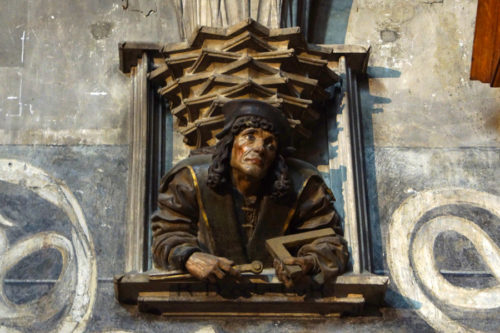 Anton Pilgram, an architect and sculptor. This may be a self portrait.
Walking round Vienna
Horses, trams and a huge market with lots of incredibly fresh food, delicious drinks and  interesting junk stalls.
The Russian Liberation Monument Fountain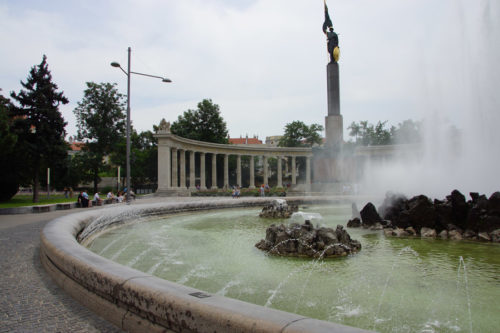 One of the most impressive fountains I've seen. You get quite wet if you're too near.
The Russian Liberation Monument Fountain or Heldendenkmal der Roten Armee is in SchwarzenBerg Platz.
A twelve meter high figure of a red army soldier commemorates the 17,000 Soviet soldiers who died in the battle for Vienna in World War 1.
Prater Park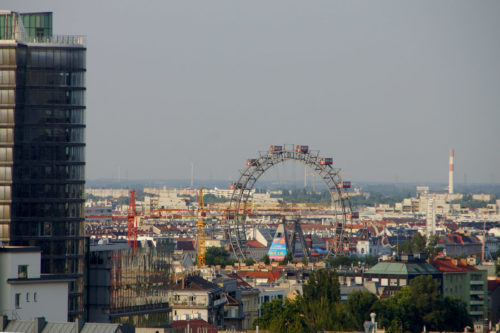 A real old fashioned amusement park with hot dogs and coffee shops. The ancient giant Ferris Wheel gives you great views of the city.
St Charles church is the best baroque church in Vienna and the Parliament building is neo- Greek style built in Austrian marble. Vienna is big on Impressive buildings.
We only  saw Schonbrunn Palace, a huge baroque complex, from the bus. Its the Imperial summer residence and very beautiful from the outside .
We also missed the Hofburg Palace, the official seat of the Austrian president. However we managed to walk in the gardens of the Belvedere.
The Belvedere is two separate baroque palaces built on a hill with huge gardens between them.
The Upper Belvedere has a large art collection including Klimt's The Kiss.You can walk down through the magnificent gardens past huge fountains and statues to the bottom of the hill where you reach Lower Belvedere.
Public transport is cheap and easy in Vienna but we had walked a lot. Sometimes the best way to see a place is to just stay still and let it happen around you.
Time to relax again!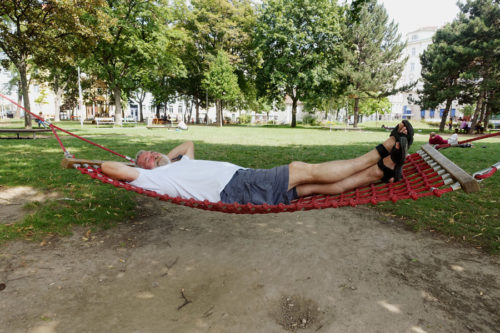 Hammocks in the park – so civilised!