From the centre of Vienna   Bratislava, the capital of Slovakia, is a 75 minute boat ride along the Danube.
Perfect for a day trip.
I guess its not top of European tourist list because even on a sunny day it was quiet but its a lovely place to spend a few hours at a slower pace than Vienna.
The Blue Church
Saint Elizabeth of Hungary is an art nouveau  style pale blue church.
It is decorated with blue majolica and even the roof is covered in blue glazed ceramic tiles. Definitely the prettiest building in town.
Although the Primates pale pink palace is a close second.
Michael's Gate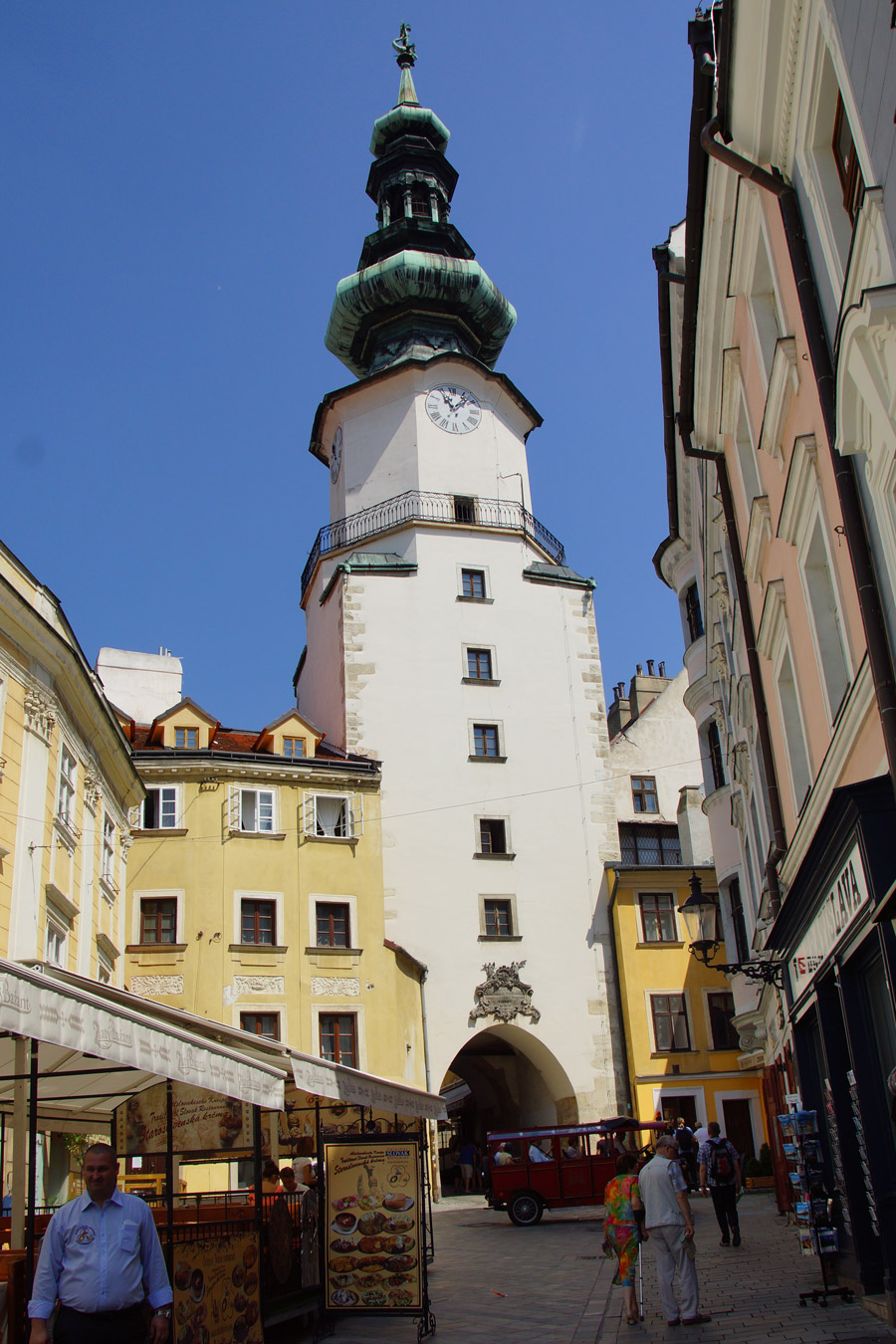 Michael's Gate is a preserved medieval fortification. It has a museum of arms and you can climb to the top for a view of the town.
However we settled for an exhibition of, not sure what you call it, maybe wire work.
Cumil, Man at Work
This bronze statue of a workman with a big grin emerging from  man hole is a tourist attraction . Apparently he is often surrounded by visitors taking snaps.
The UFO
Officially called the Bridge of the Slovak National Uprising  you can walk across this bridge  from the old town to the modern suburbs.
This was built in 1972 and because of the shape of its viewing platform it is called the UFO locally.
If you go up to the top there is a nice cafe and views over the town, they say for one hundred kilometres. The view from the toilet is especially brilliant!
A Walk Around  Bratislava
The city centre is compact and pedestrianised so it is easy to get around.
The Primates palace is an attractive pink painted neoclassical  building originally built for the Archbishop of Esztergon in the 18th century. Now it is where the mayor lives.
Outside a golden Saint George slays a three headed dragon.
There were stalls selling very attractive local crafts and more than enough cafes and small restaurants.
At lunch time found a nice Chinese restaurant on the hill up to the castle.
Then back on the boat to arrive in Vienna at dinner time – perfect!