Revolution Square
The world has been watching Revolution Square as the crowds mourned  Fidel Castro. But things were already changing. Cruise ships  visit Havana now and President Obama has improved relations with the Cuban leadership. Whether this lasts with the new President it must be that Cuba will eventually open up more to America.
We had deliberately toured the country before this happened and hoped to see the country as it had been for the last fifty years .
For people of our age the earliest memories of international events are from the  sixties. A lot happened in those years. I remember the Berlin Wall and Yuri Gagarin, but most of all I remember the Bay of Pigs in 1961 when America attempted to topple Castro and the Cuban Missile Crisis of 1962  when my parents were convinced we were days from annihilation.
My father would watch the news and shake his head believing no one would back down and  we would all die.
With these memories a trip to Cuba was always on the list but I am just a few years too young to remember the Cuban revolution.
Learning about the iconic figures everyone has heard of was a big part of our visit.
A steel memorial to Che is on the front of the  ministry of the interior.
It says " Hasta Victoria Siempre" or  Until everlasting victory always.
Che's office is supposed to be preserved intact in the ministry but no one is allowed in.
The other memorial is to Camil Cienfuegos .
The quote "Vas bien Fidel" or You are doing well refers to a famous comment Cienfuegos made to Castro during one of his speeches.
Images of Revolution
"Vas bien Fidel"  You're doing well – became  a slogan of the revolution.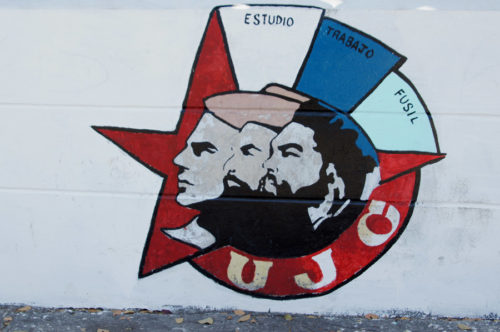 Study, Work, Rifle
The Young Communist League Cuba
Julio Antonio Mella founder of the Communist party,
Camilo Cienfuegos the revolutionary head of the army,
Che Guevara the symbol of revolution all over the world.
You can't visit Cuba without learning a lot about revolution and the extrodinarily charismatic leaders adored by most of the population. Che is famous everywhere. His image is still on Tee shirts and the Korda photographs of him are on posters found everywhere (mine is in the loo!).
Camilo Cienfuegos, although less well known in the west was also handsome and long haired and he died young which always helps the legend.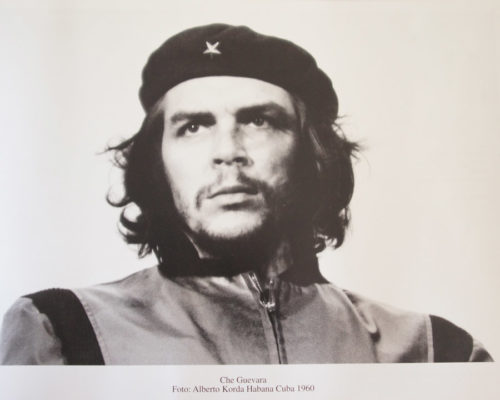 The most famous photograph of Che by Alberto Korda. This image is recognised worldwide as a symbol of revolution.
Korda went on to become Castro's personal photographer.
He never received royalties for this image but didn't mind its widespread use for causes he approved of.
Images like this are everywhere in Cuba. They are part of everyday life.