Cuba was one of the first countries to have a railway system.
It was built to carry  sugar around the country.
Now the lines are in disrepair but there is a tourist steam train to take you to the sugar plantations.
We went from Trinidad to Manaca Iznaga.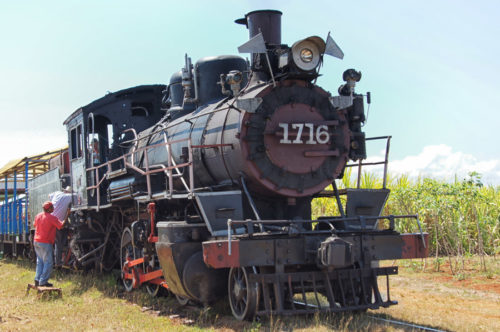 Out in the fields
At the Sugar Plantation
Many black  Africans were brought to Cuba as slaves in the sugar industry.
350 slaves lived at the sugar plantation of Manaca Iznaga.
The tower is an old slave lookout built in 1750 it is seven stories high with 136 steps to the top.
From here you have a fantastic view of the surrounding countryside. You can imagine the surveillance of the slave workers in the nineteenth century.
Mojito Time
Cuba exports a lot of sugar but it also uses a lot to make rum. Santiago de Cuba Extra Anejo is a dark wood aged rum designed to be drunk with cigars.
At around £50 a bottle  it was supposed to be Castro's favourite.
But even better (and a lot cheaper) are the white rums used to make Havana's famous mojitos. There is no better drink then a Cuban mojito.
A pina colada or a yellow bird both make good use of Caribbean ingredients but a  mojito made by a Cuban bartender is sublime.
In a bar just off the Malecon you order a mojito. The mint and limes are so fresh they must have just been picked from the garden.
After a couple of sips the bartender asks how is your drink. When you say great he says lets make it even better and he tops up the rum.
You could stay there forever.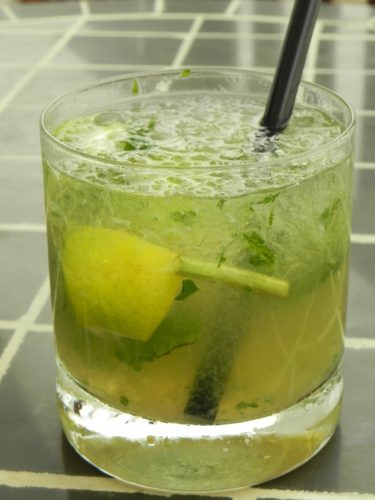 But you have to go  home and you make your own – not as good but ok!
Put the lime,mint and sugar in a highball glass
and mash together.
Add ice (lots) and rum.
Fill up with soda water. Serve with a straw and a sprig of mint.
Enjoy!