It probably wasn't the best idea to spend a week in Carcassonne with a broken arm especially in a heatwave. The travel insurance would  have paid up but sitting at home unable to do most things, try washing up or ironing with one hand, was driving me crazy so we went anyway.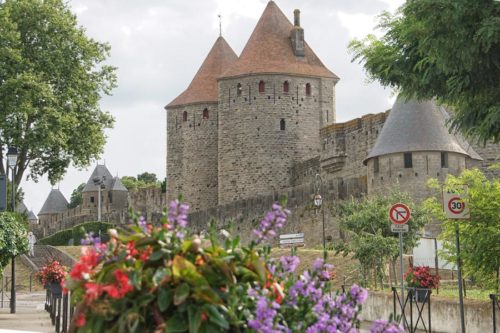 High on a hill Carcassonne's ancient walled city or citadel is like a fairy tale. It out Disneys Disney and is said to be the inspiration for sleeping beauty.  Yes it is a complete tourist trap full of plastic swords and nougat shops but its one of the best ones around and it is really beautiful. Especially lit up at night or when the sun shines on the grey slate roofs.
First built by the Romans then the Visigoths it eventually fell into disrepair until Viollet Le Duc began to restore it in 1853. It has been a UNESCO site since 1997. Le Duc was not too worried about authenticity, it is thought that the fifty two towers would have originally had no roof or maybe terracotta tiles. Le Duc chose the high grey pointed roofs to look good and they do.
Inside the two outer walls is a small town with squares, shops, cafes and a hotel. There is also a castle and a church.
This year in May a Swiss artist helped by local art students installed an art work – if that is what it is- called Concentric Eccentric Circles. Aluminium strips painted yellow have been temporarily attached to the brick work . If you go to exactly the right place they form huge circles that look like a target. There is a lot of local opposition to this but it will be taken down in September. I can't really see the point but I suppose it is quite clever.
Carcassonne lower town or La Ville Basse is also worth a walk around. Its old fashioned enough to be like Northern France used to be years ago. Its very rundown away from the centre but the Place Carnot is a nice place to have a coffee and watch the French go by.