On a hillside on the east coast of Sicily and close to Mount Etna is the beautiful town of Taormina.
Taormina
Because of its beauty Taormina was once a stop on the Grand Tour  taken by young aristocrats in the nineteenth century. A rich city under the Greeks and then the Romans it was conquered by the Normans and fell into decline. The main street – Corso Umberto  is full of luxury boutiques, coffee shops and ice cream and is a lovely walk but it's most famous for its Teatro Antico di Taormina, the  Greco-Roman theatre. Carved out of Mount Tauro in a horse shoe shape above the bay of Naxos  it seats 5,000 people for concerts and plays. Once the works of Sophocles and Euripides were shown but now there are fashion shows and pop concerts. The spectacular views on a good day (most days) are outstanding.
Palermo and Monreale
Palermo was founded by the Phoenicians and once called Ziz, a much better name I think! Its famous for its markets full of fresh fruit and vegetables and fish.
Nearby is Monreale with its famous cathedral and abbey.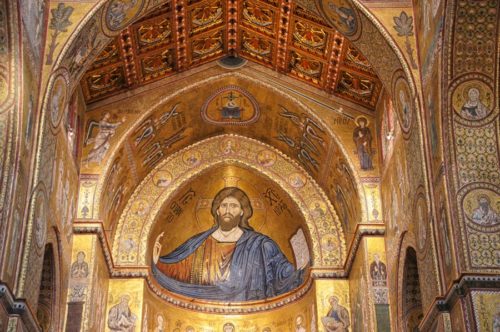 Christ Pantocrator (Almighty) in the apse of Monreale cathedral. Made with pure gold this is  one of the most beautiful and spectacular churches anywhere.
The Benedictine Abbey is attached to the cathedral . The cloister court is the only part left standing. There are twenty six arches on each side  supported by two hundred and twenty eight columns. Theses are all decorated with either mosaics or carving.
Mount Etna
We had a view of Etna from our hotel as it gently shot red sparks into the night sky. Its one of the most active strato volcanoes and the highest in Europe so its common to see some activity.  Its closely monitored and often closed to visitors so we were lucky to have the best of both worlds, able to climb the volcano and see it in action. Etna is 3326 metres high but changes with every eruption from the four summit craters. The Silvestri craters were formed by the 1892 eruption but are no longer active. This is a good place to walk across the lava and explore in safety.