On our South American cruise we knew we would not have much time in Uruguay but due to the strong winds we had even less time than we expected.
Nevertheless we were determined to at least explore the beaches and high class shops of Punte del Este .
Called the St Tropez of South America Punta del Este  is a millionaires playground.
Its all about tanning, surfing, shopping and clubbing. Its a place where beautiful people walk small dogs with bows in their hair.
On the Atlantic coast in South East Uruguay its Brava Beach is known for rough water.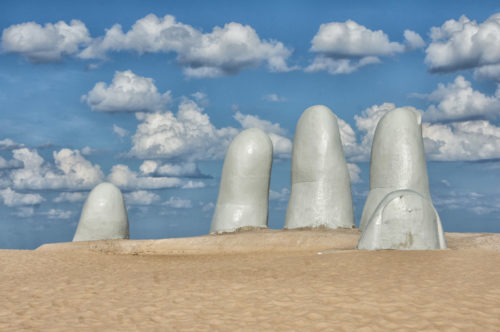 In 1982 Mario Irrazabal a Chilean artist constructed a giant hand, well fingers,  in the sand.
A Long Hot Walk
We passed the  marble sculpture, by Pablo Atchugarry,  made to commemorate one hundred years of Punte del Este.  Not sure what it is except that its very  abstract. Then we walked along Avenida Gorlero passing expensive  restaurants and bars. There are also lots of art galleries. But by the time we got half way along we were looking overheated and disreputable so we didn't think the gallery owners would be very welcoming.
Time to walk all the way back and eat a weeks worth of food in an evening on board our cruise ship.